If you are about to buy a new GUCCI handbag, you might know that online you can often find better prices than in a GUCCI store. But online purchase brings you to the risk of buying a fake one.
Here's our Gucci bag authenticity guide video explaining how to spot a fake GUCCI bag. Using authentic GUCCI Dionysus and Falena bamboo top handle bags we show how to tell them from replicas.
As usually trying to keep it simple. Can be used to authenticate any modern GUCCI handbag.
Of course you are smart enough to understand that GUCCI bag with retail price of $4000 can not cost $250 on some suspicious website. But what if the price tag is 30% off the retail, can you trust it? And here is our part: we will show you how to tell a real GUCCI bag from replica.
We always like to keep it simple and avoid comparing the smell, softness and stitch-per-inch quantity. So just follow our simple checkpoints.
We will use GUCCI Falena top handle handbag, embellished with large mother-of-pearl butterfly, or someone calls it a moth.
Most of these guidelines also refer to GUCCI Dionysus bag, GUCCI Marmont bag, GUCCI Queen Margaret bag, GUCCI Totem bag and many other similar modern GUCCI handbags.

Gucci  bag authenticity guide:
1. Despite the fact that replicas are insanely good, replicants often miss such simple things as wrapping. Or better to say they put the wrapping on when they shouldn't. If the handle of the GUCCI purse is wrapped, you'd better keep away from it. Same thing with a shoulder strap.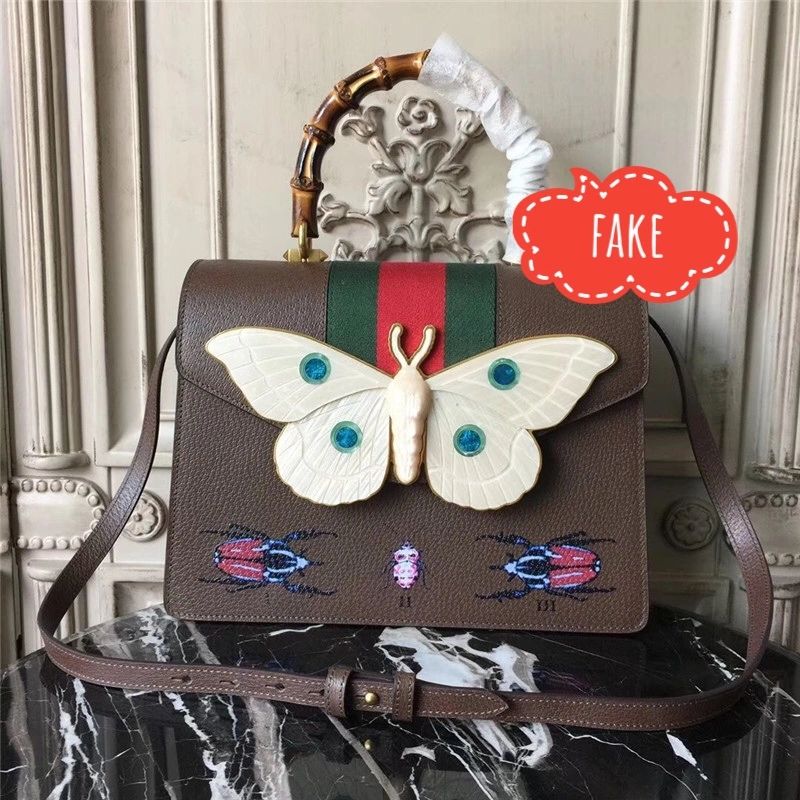 2. Do not expect that bamboo handle requires complicated craftsmanship. It is pretty easy to replicate, especially in China, where bamboo is widely spread. So bamboo handle is not the place to check. Or at  least not the first one.
3. Stitching. With the highest quality of fakes stitching still remains there weak point. Most fake GUCCI Falena handbags we've seen have very uneven stitching under the flap at the corner near the butterfly. That's not what you expect from $4000 bag.
GUCCI uses backside stitching in this place, with every stitch deeply paved into leather. On fakes we see a regular front stitching here.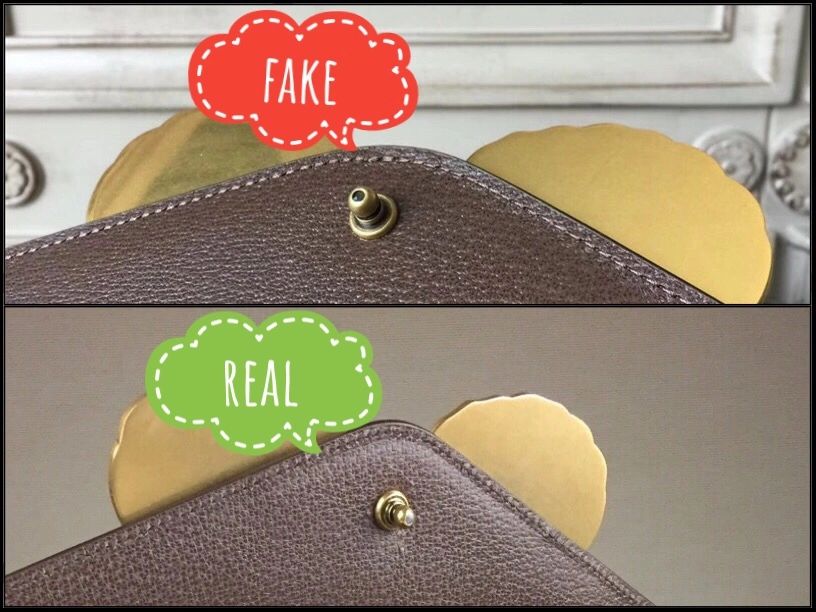 4. The most complicated part of this bag is butterfly embellishment, so we should check every inch of it. And it has a story to tell! First, in fakes the moth does not perfectly fit the metal frame – it has loose space in tiny corners.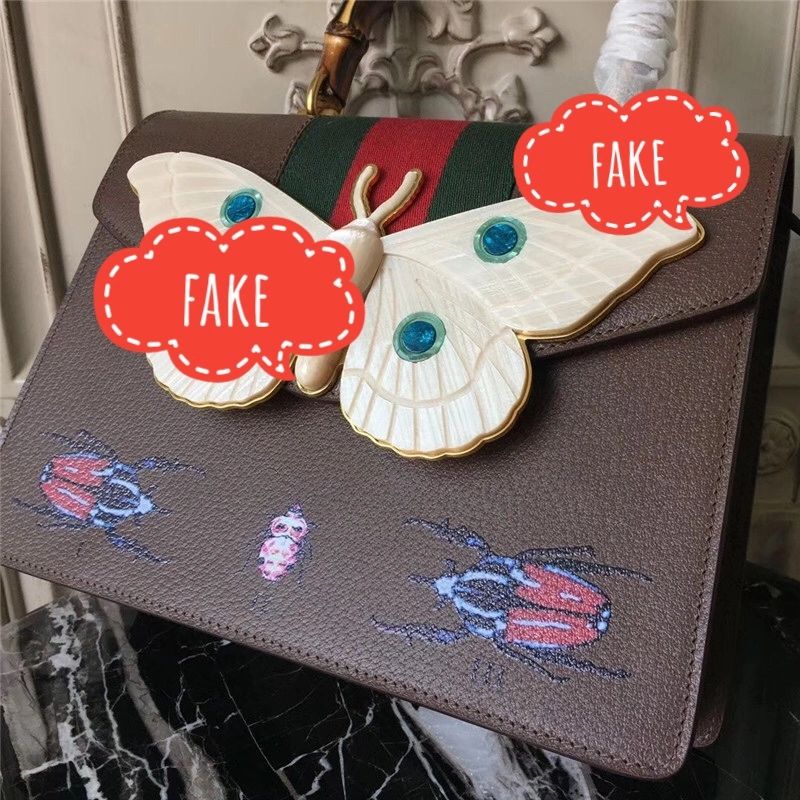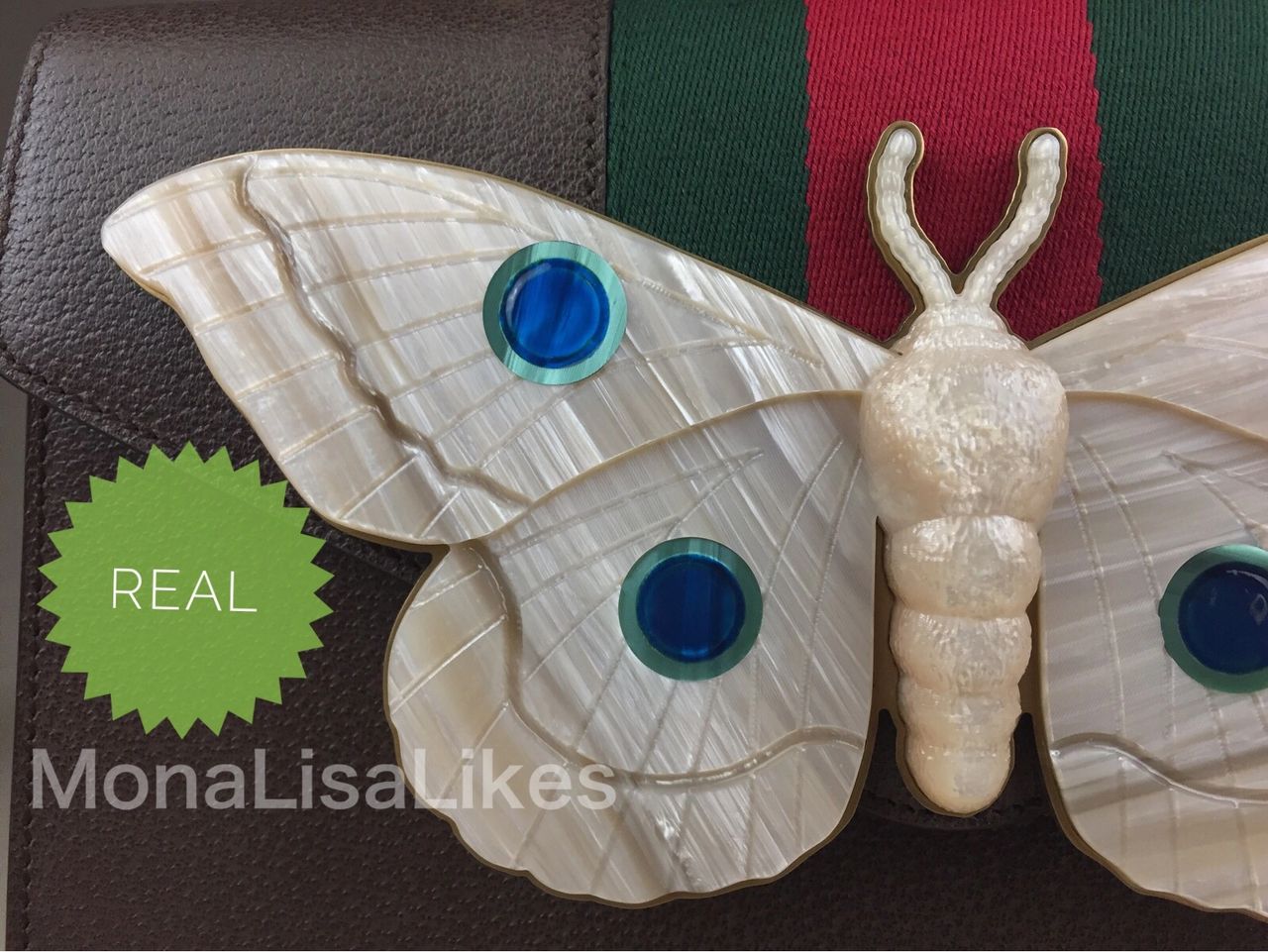 The moth's body in a real GUCCI handbag imitates the roughness of a natural moth, covered with glaze, it does not look smooth, but it is very shiny. Fakes are usually smooth and fluent, without peculiar structure.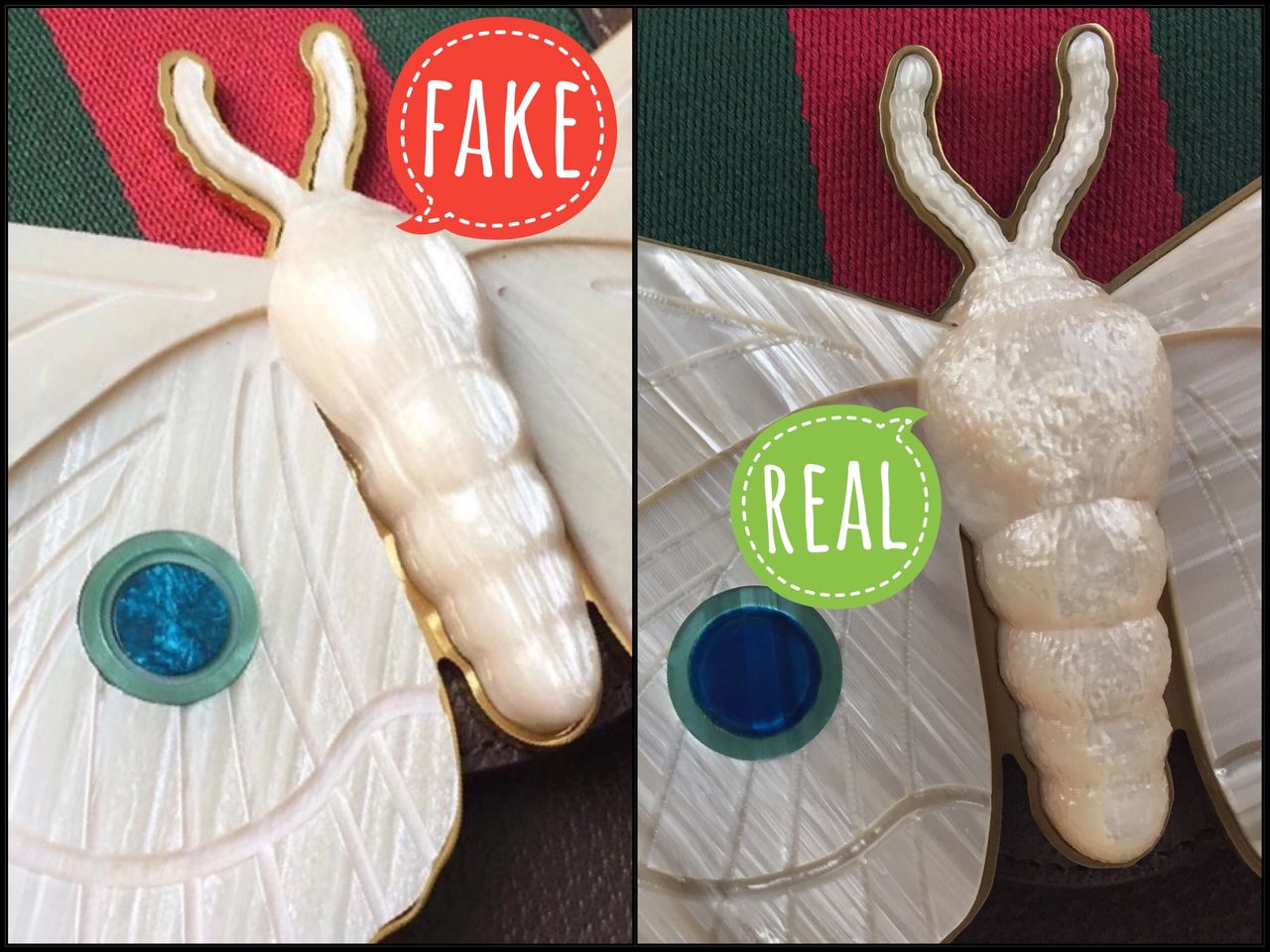 Grooves on the wings of a moth on a real GUCCI purse a thin and delicate, fakes have wider grooves that do not look so delicate. And of course the color should have mother-of-pearl effect.
The metal plate that holds the moth is NOT shiny in a real GUCCI handbag.
5. Beetle prints are very similar, but if you use photos of authentic GUCCI bag from www.monalisalikes.com to compare them thoroughly, you will find that on replicas some spots are colored differently.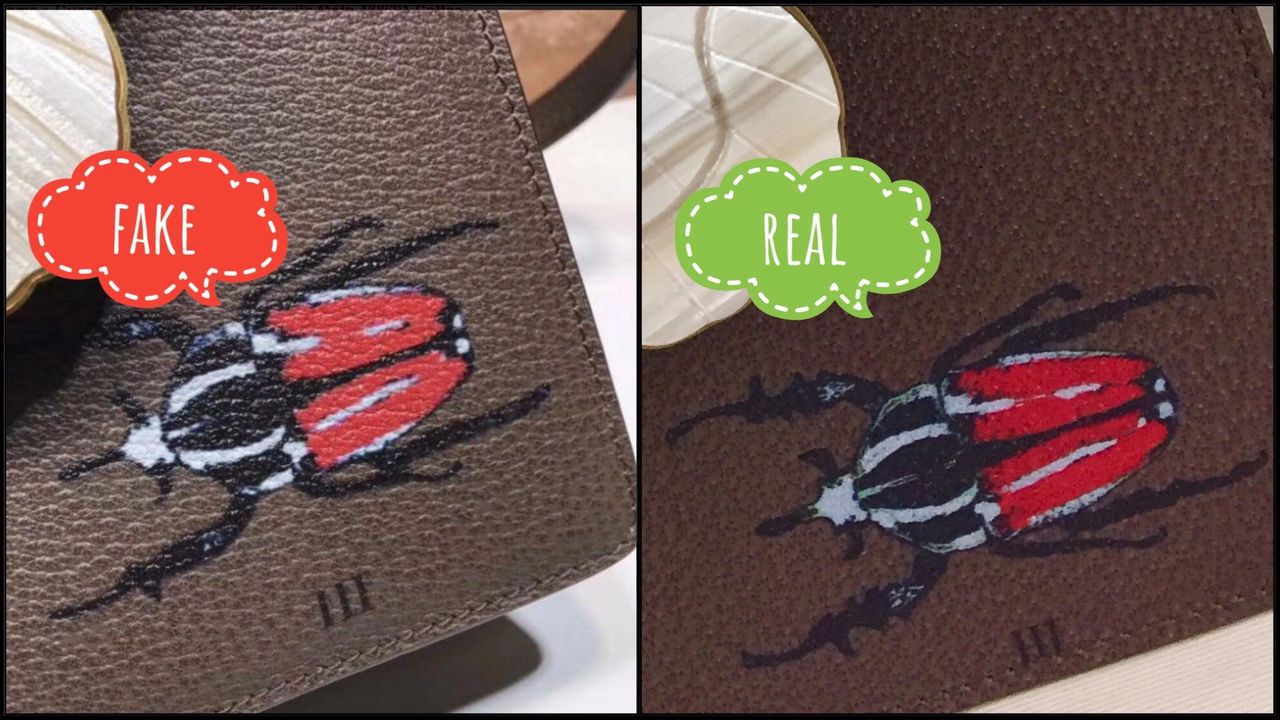 6. Interior of the bag is often replicated so well, that photos are not enough to tell if the bag is real.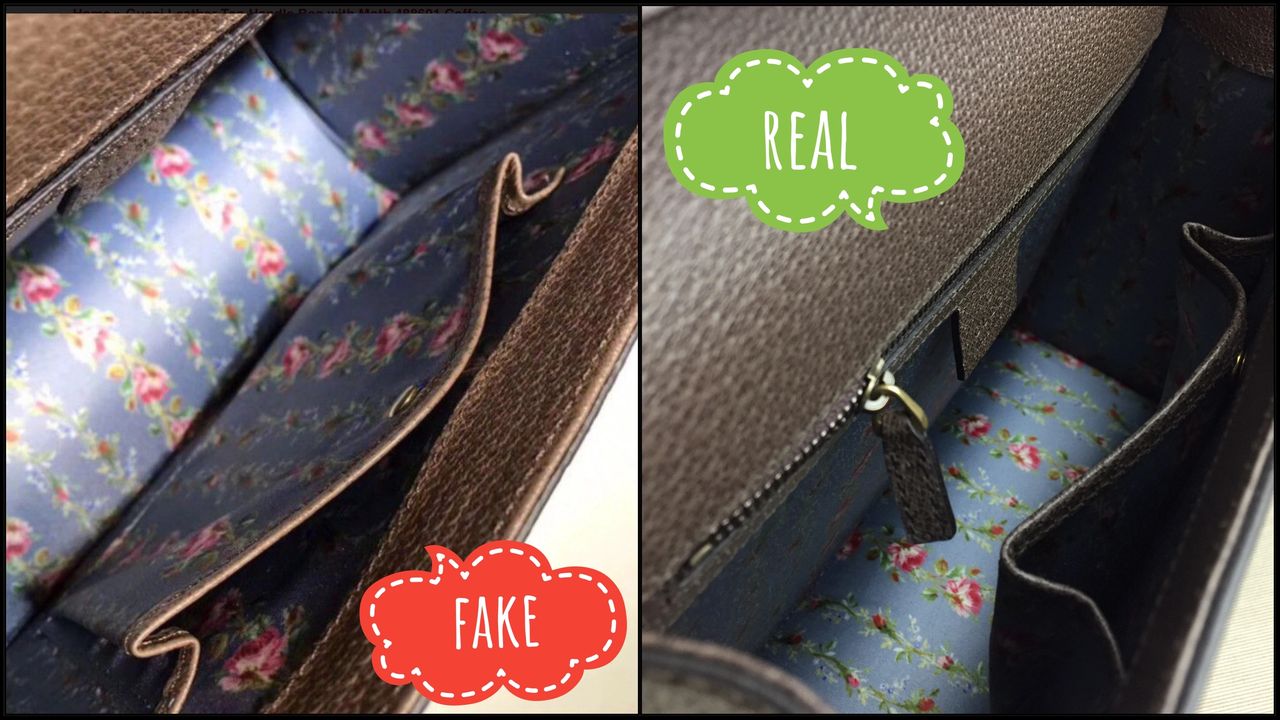 But live you would feel that the floral lining is made from silk, and it is sooo smooth! The button on a inner pocket has a perfect GUCCI engraving.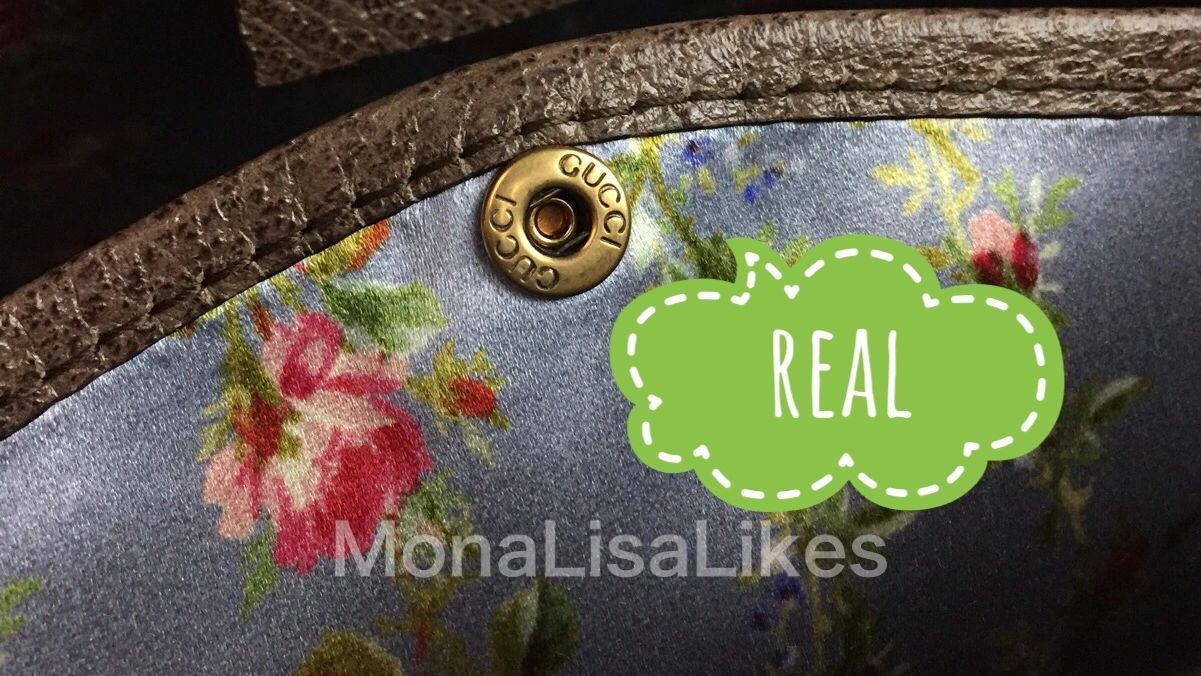 7. GUCCI logo is also so well replicated, that it is far not the most obvious place to check. The embossing should be firm, with same depth on all letters. Text should say "GUCCI made in italy". The iconic GUCCI font should be used.
You shoul also compare the stitching type and quality around the tag. The newest GUCCI now also have a fabric tag with QR code besides the leather one. This one was implemented in 2017, so even some GUCCI 2017 handbags and older might not have it.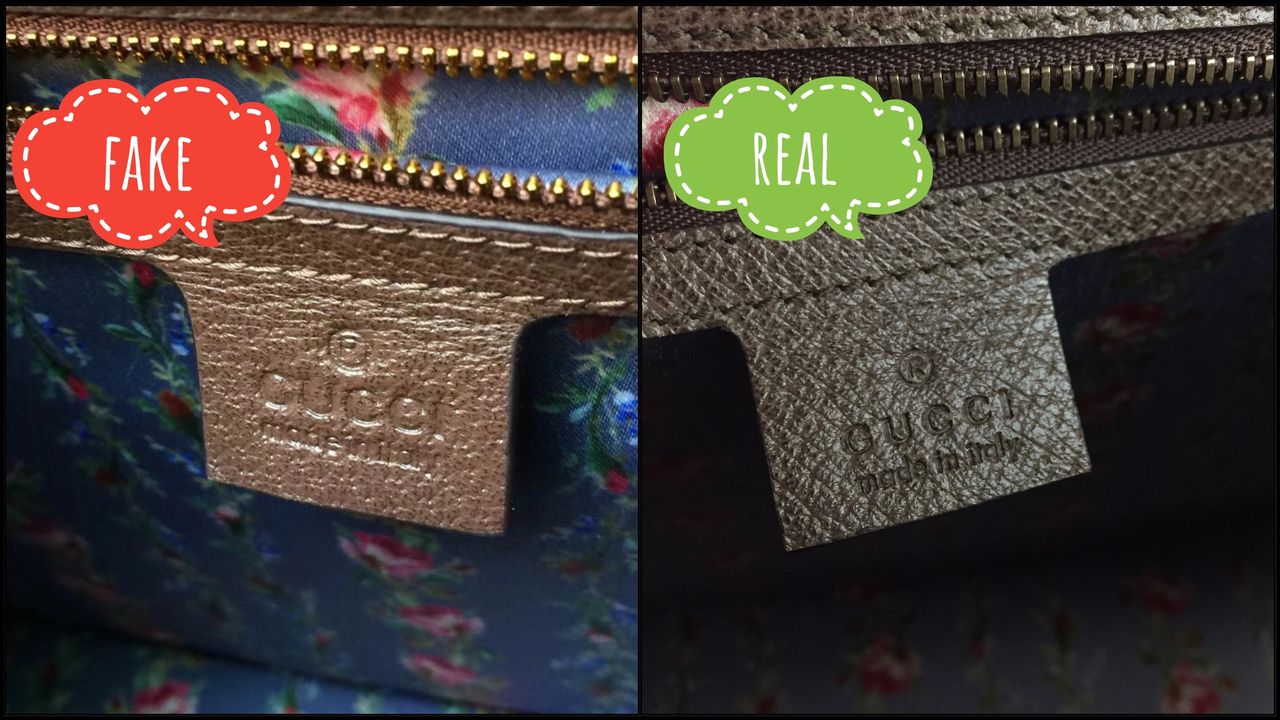 8. GUCCI serial number can often help you in the process of authentication of the bag. It should consist of two groups of numbers, six digits in each of them. First group indicates the model number, second – factory number.
These numbers should be placed in 2 lanes, embossed on a reverse side of a logo tag or other place. They are always placed on a leather, never on fabric.
Sometimes they are embossed directly under the GUCCI logo. This number should not include letters!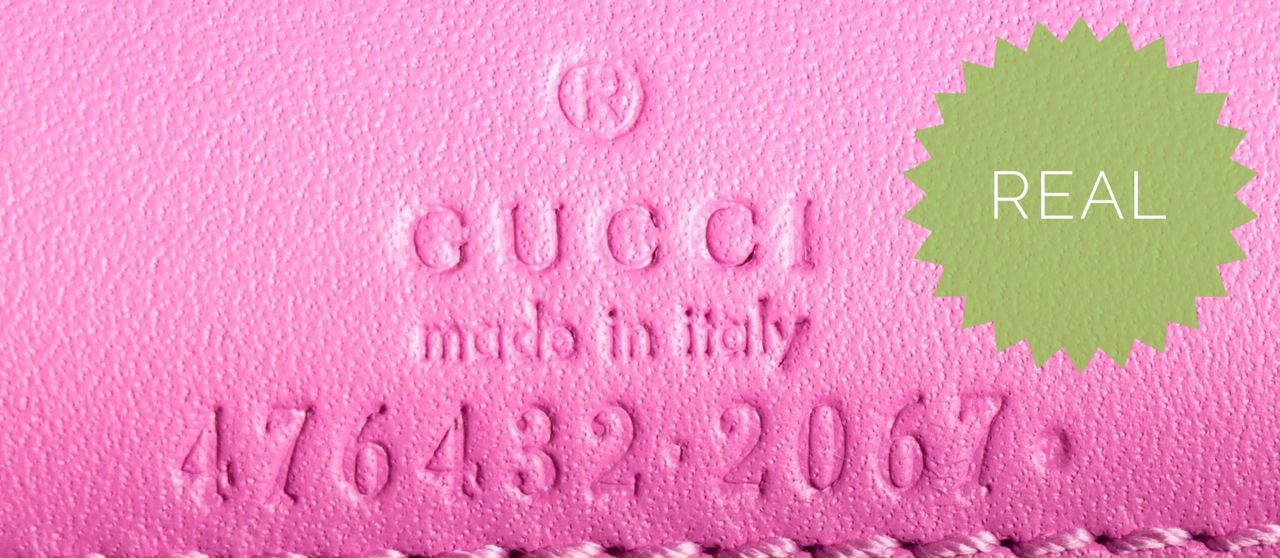 9. GUCCI handbag is accompanied by white satin dust bag. Dust bag has a black ribbon tightening on the top and a GUCCI care tag inside with GUCCI logo.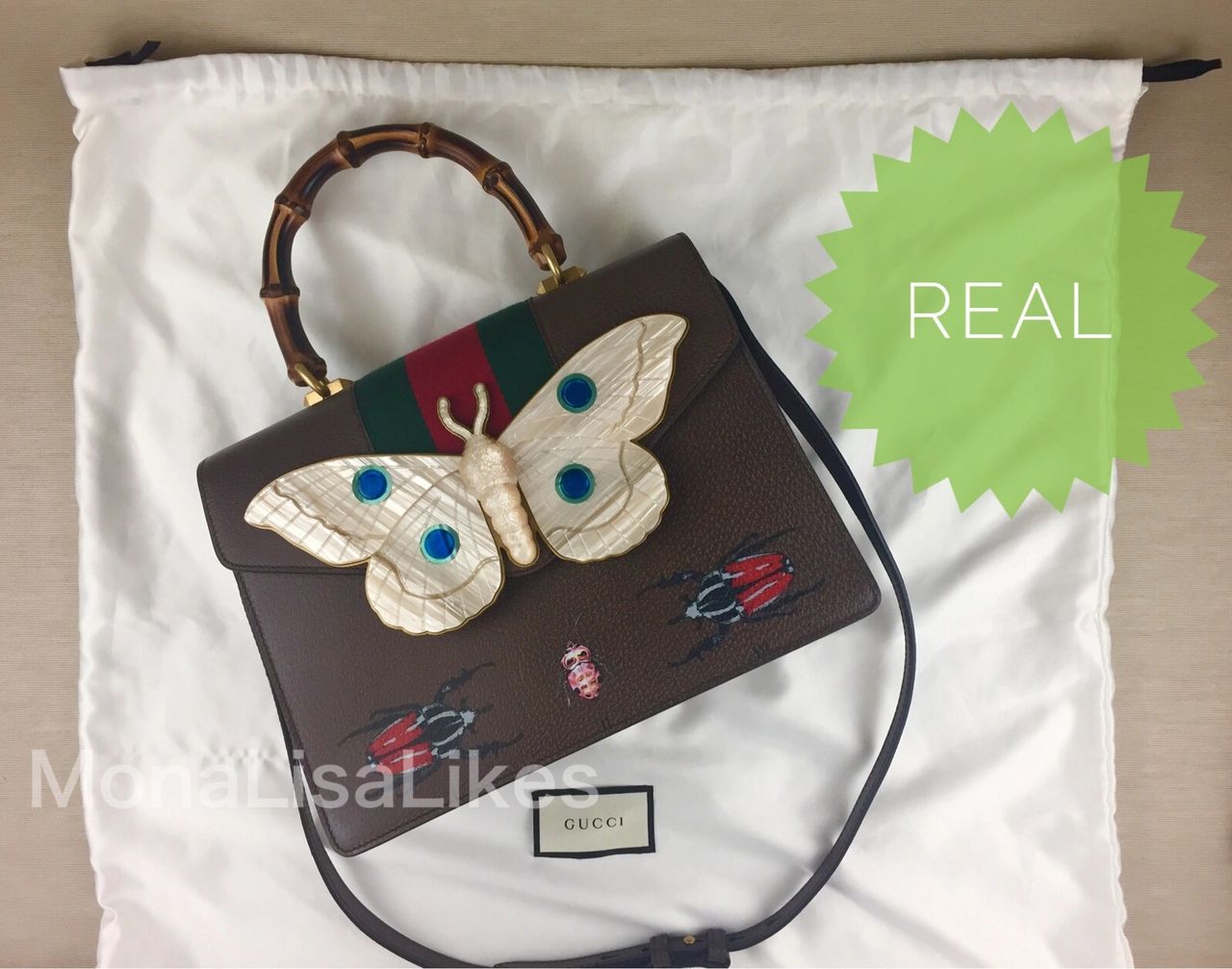 10. To be sure you spend your money safely, be confident in a place where you buy your GUCCI handbag. Buy it at www.monalisalikes.com for guaranteed authentic items and unbeatable prices.
You would find a unique selection of Dolce & Gabbana handbags, shoes and dresses, Alaia shoes, BURBERRY trenches, Celine handbags, La Perla swimsuits and lingerie, Bottega Veneta handbags and other finest designer items. Always 100% authentic!
We hope our Gucci bag authenticity guide helped you to resolve your issue with your current or future Gucci handbag.
GET 10% DISCOUNT on your first purchase when you sign up for our newletter on the bottom of our Homepage

More Articles
We divided our catalog in multiple categories for a better experience
Subscribe to our Newsletter and get -10% OFF your first purchase
Stay updated with newest arrivals and exclusive designer deals.