Dolce & Gabbana is one of the most iconic brands in the world and nowadays it is making huge progress in handbag design, gaining more and more fans with their fancy bags.
If you have put an eye on a new Dolce & Gabbana handbag, but the variety of styles and designs makes your head goes round, we will try to put it simple and will go through most popular of them in this Dolce & Gabbana bag reference guide.
Dolce & Gabbana bag STYLES reference guide:
Of course the most popular, most iconic and best for everyday use is Dolce & Gabbana Miss Sicily bag, named after Sicily island in Italy. It has been on the stage for over a decade with very little principle changes, but with a huge leap in design and decorating.
Dolce & Gabbana Miss Sicily can be made of leather, canvas, silicone, woven with wool or raffia. It can be black, white, or any color you like. Miss Sicily handbag can be floral, polka dot, or with the brightest prints and patterns.
The most fancy bags can also be crystal embellished, sequined and even with hand-made needlepoint. You can also find a Dolce & Gabbana Miss Sicily crocodile leather bag, python leather bag, fur bag and mix of different exotic skins.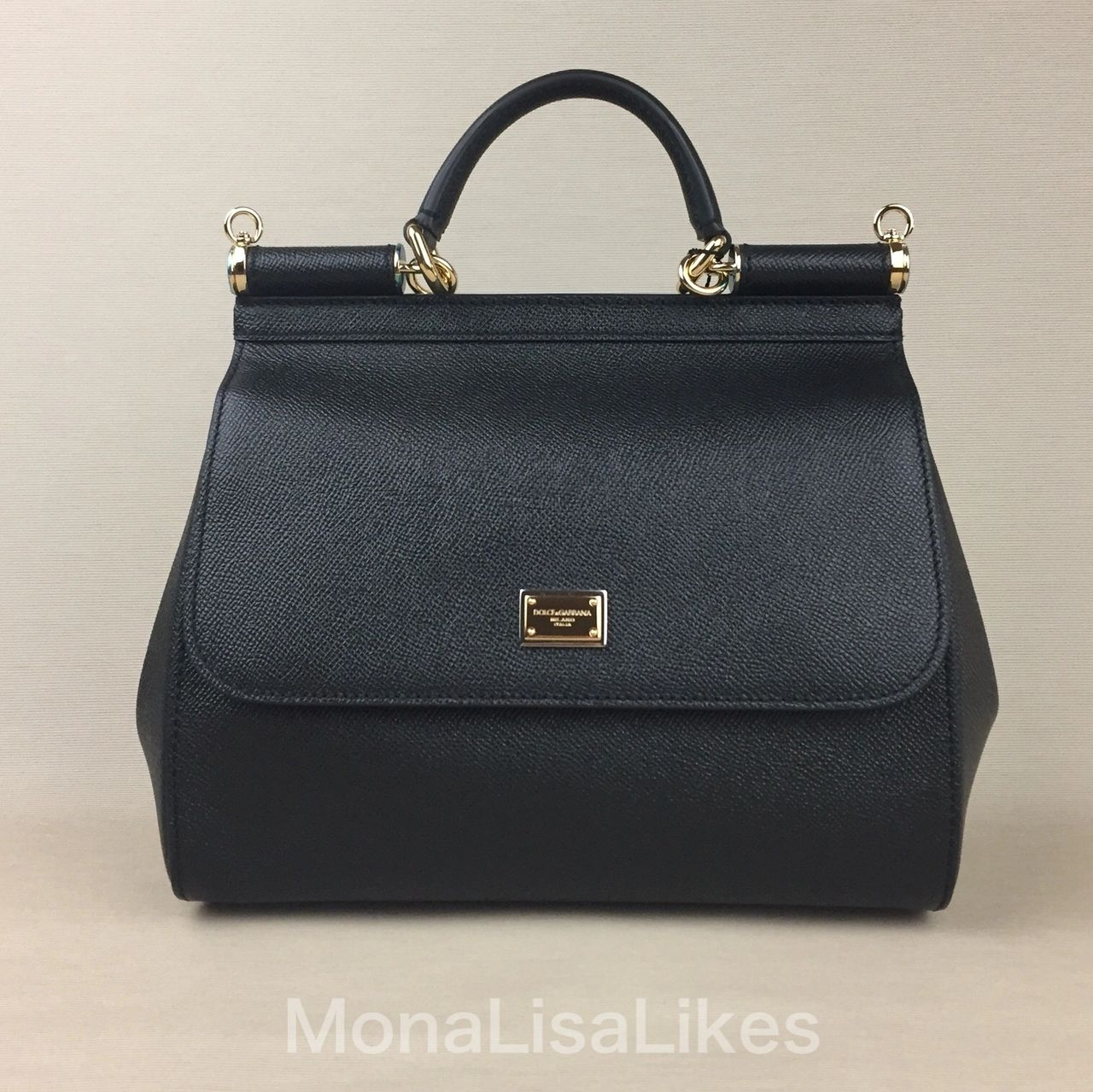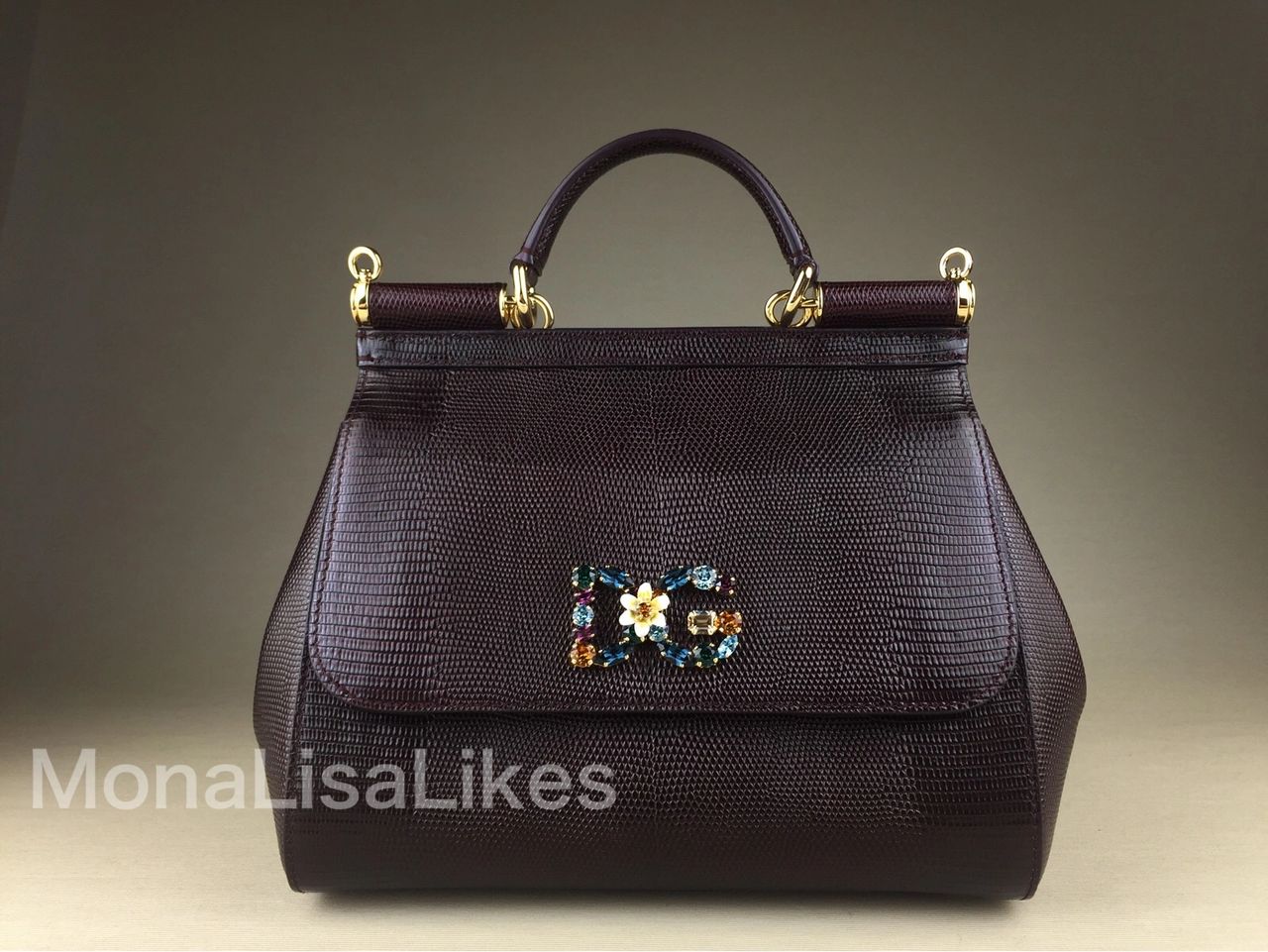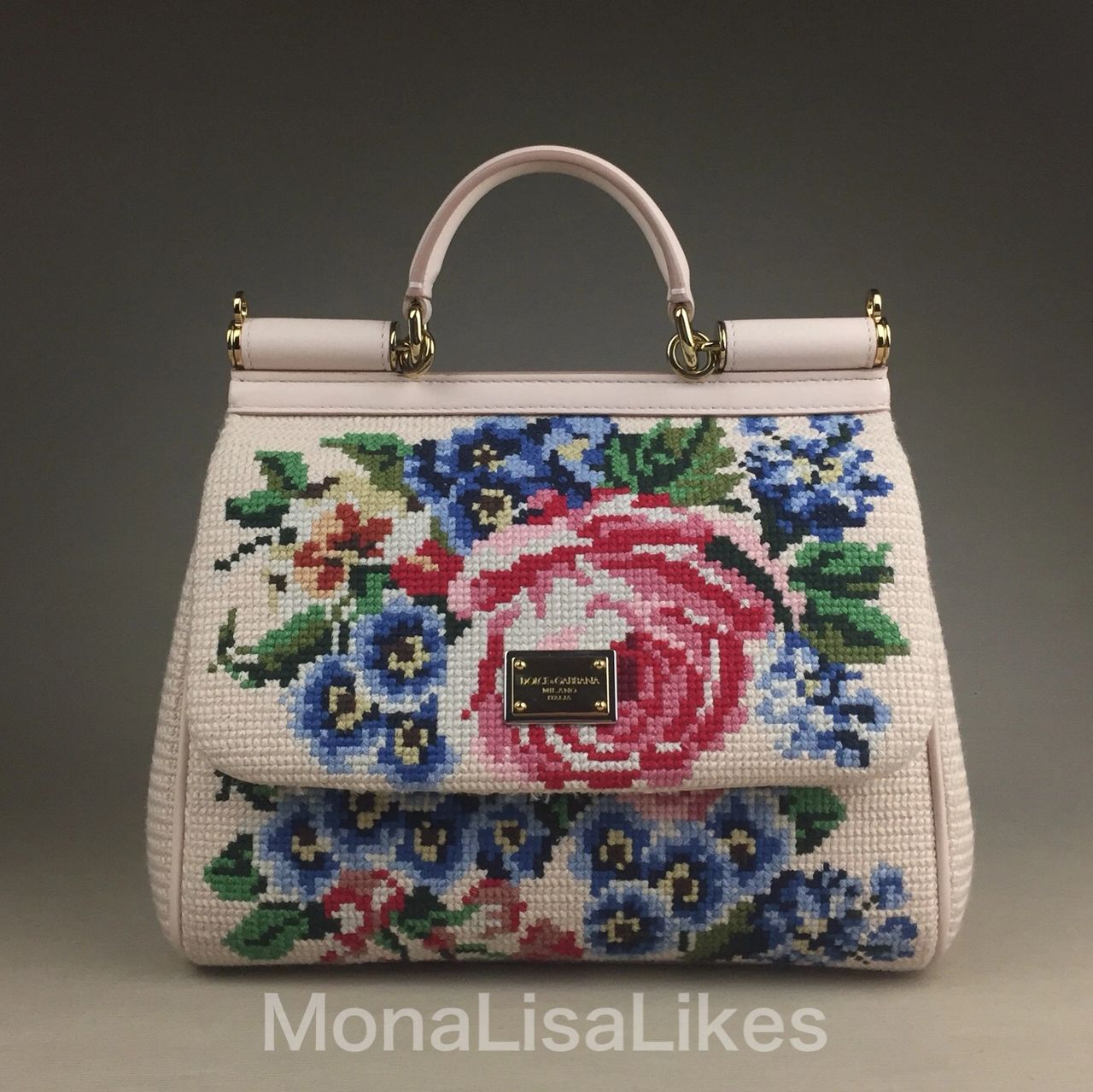 Most popular Miss Sicily version is hard leather called Dauphine. This bag will last you forever and look like new for years. This leather makes it one of the best designer bags for everyday life. And plenty of designs and prints will fit ay taste.
One of the most wanted designs is a Laser Cut Out nappa bag, or sometimes called Intaglio. This bag rolls over from one collection to another with no changes for 3 years in a row! In 2018 they added a fancy Semi-Transparent Rubber Sicily Handbag which is a most affordable Dolce & Gabbana Miss Sicily bag.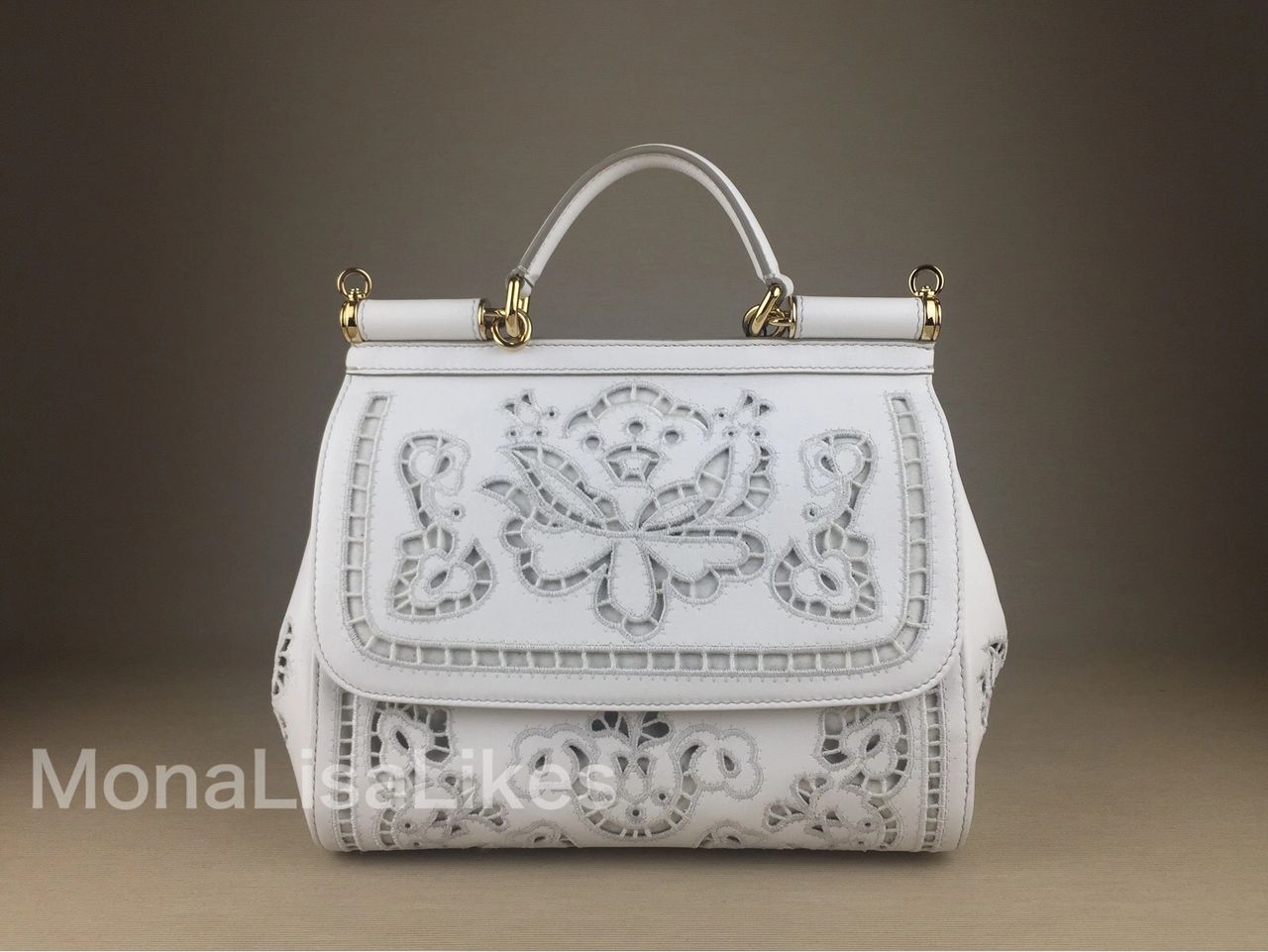 Miss Sicily comes in 3 main sizes: large, medium and mini (small). Sometimes you might also find a micro Miss Sicily bag, but it's more coin purse, than a real handbag. Approximate dimensions are (depending on the material and measuring techniques they may vary a little):
Medium Dolce & Gabbana Miss Sicily bag – 10″ x 8 3/4″ x 4 1/2″
Large Dolce & Gabbana Miss Sicily bag – 12 1/2″ x 10 1/2″ x 6″
Mini Dolce & Gabbana Miss Sicily bag – 7 3/4″ x 6 3/4″ x 3 1/4″
The hottest 2018 Dolce & Gabbana handbag is Dolce & Gabbana WELCOME BAG. It's closure button was designed as an old Italian door bell button. This bag is by far the most bold Dolce bag, with craziest embellishments, materials and combinations of those. They combine fur with crystals, floral prints and embellishments. They are literally crazy!!! Very fashionable and stylish and 100% recognizable, Dolce & Gabbana Welcome bag will attracts most attention to the brand in the coming seasons. As well as to the owner of the bag.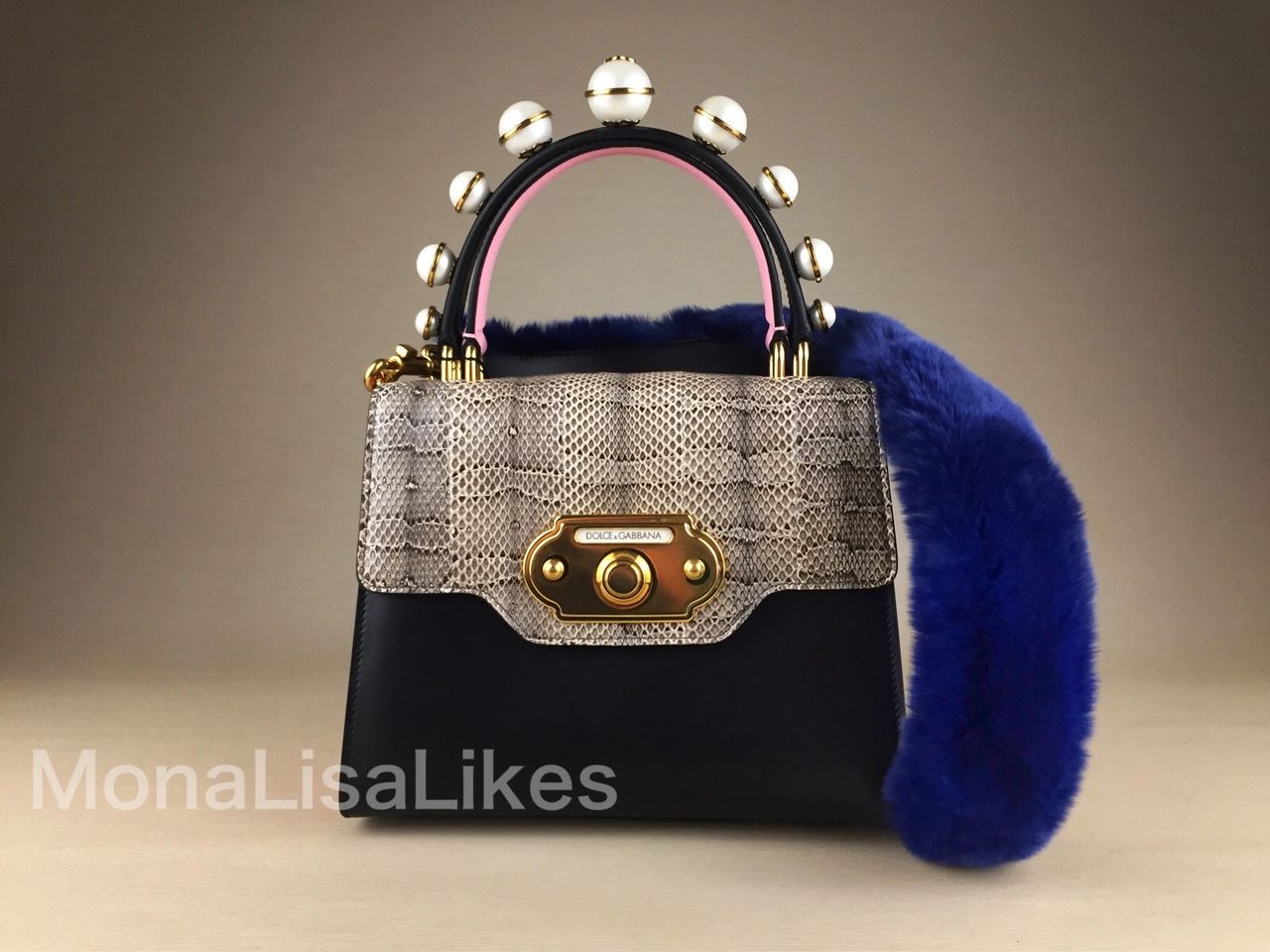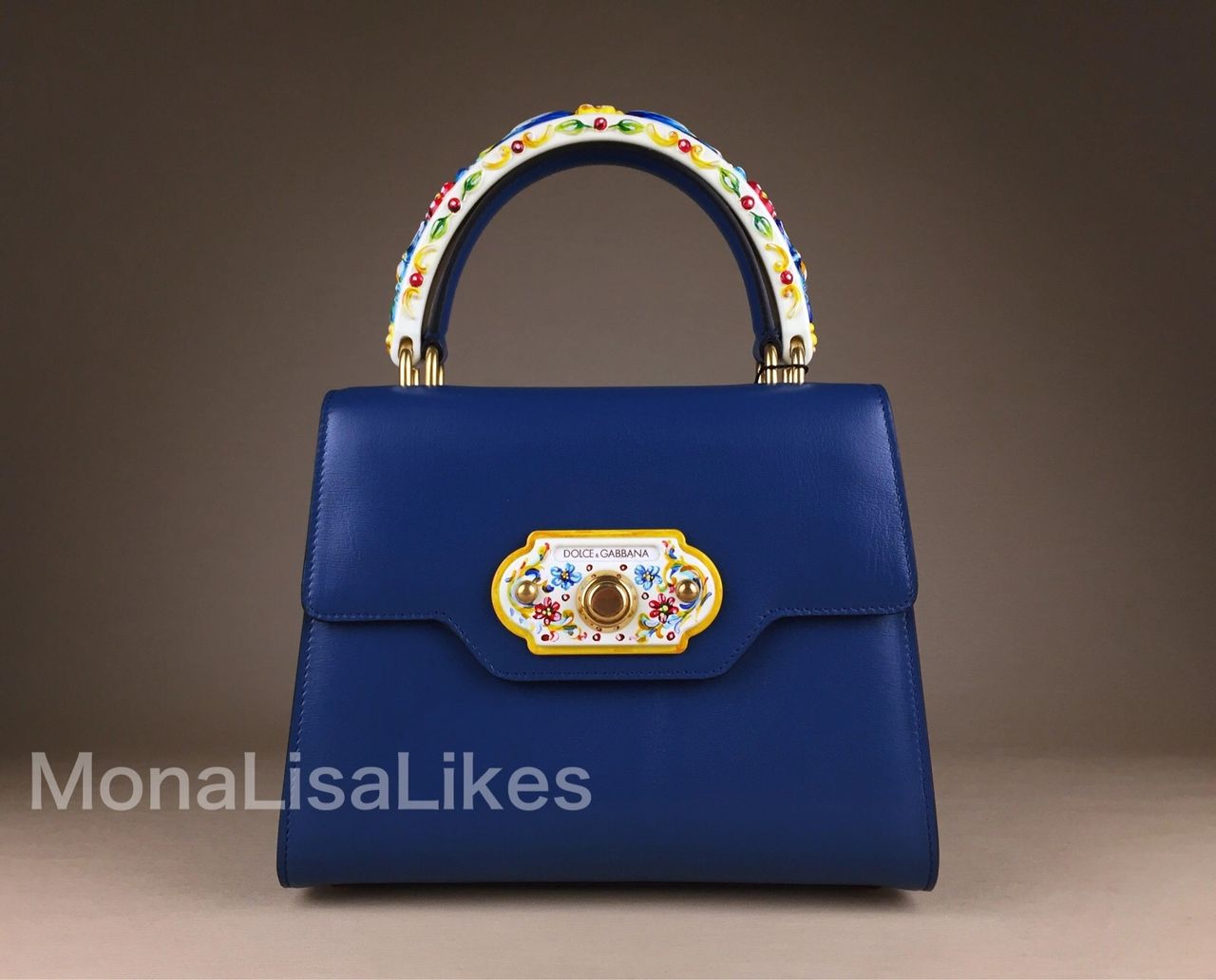 New trendy designs are Dolce & Gabbana Amore bag and Dolce & Gabbana Devotion bag. Both added to DG lineup in recent years and now gaining huge popularity as classic designer bags for every day, or evening occasions
Most unique and rare of all DOLCE bags is Dolce & Gabbana Box Bag. Invented by Domenico Dolce & Steffano Gabbana, box bag is an essential guest on red carpets and hottest evening events of the world.
Usually box bags are made of wood, decorated with reach embellishments and appliques. Most exclusive limited edition Box bags are hand made in several pieces, with inlaid ornaments of expensive woods and covered with numerous layers of lacquer and may cost over $10,000.
You can find your exclusive box bag on monalisalikes.com – some of them are the only pieces in USA.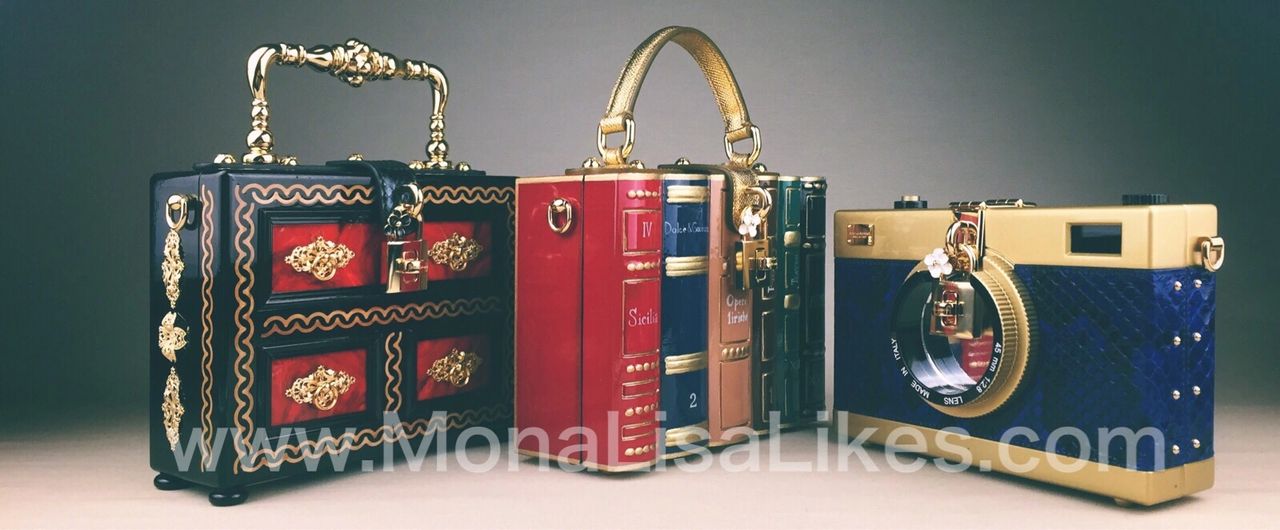 More affordable box bags are covered with canvas with embroideries and crystal embellishments.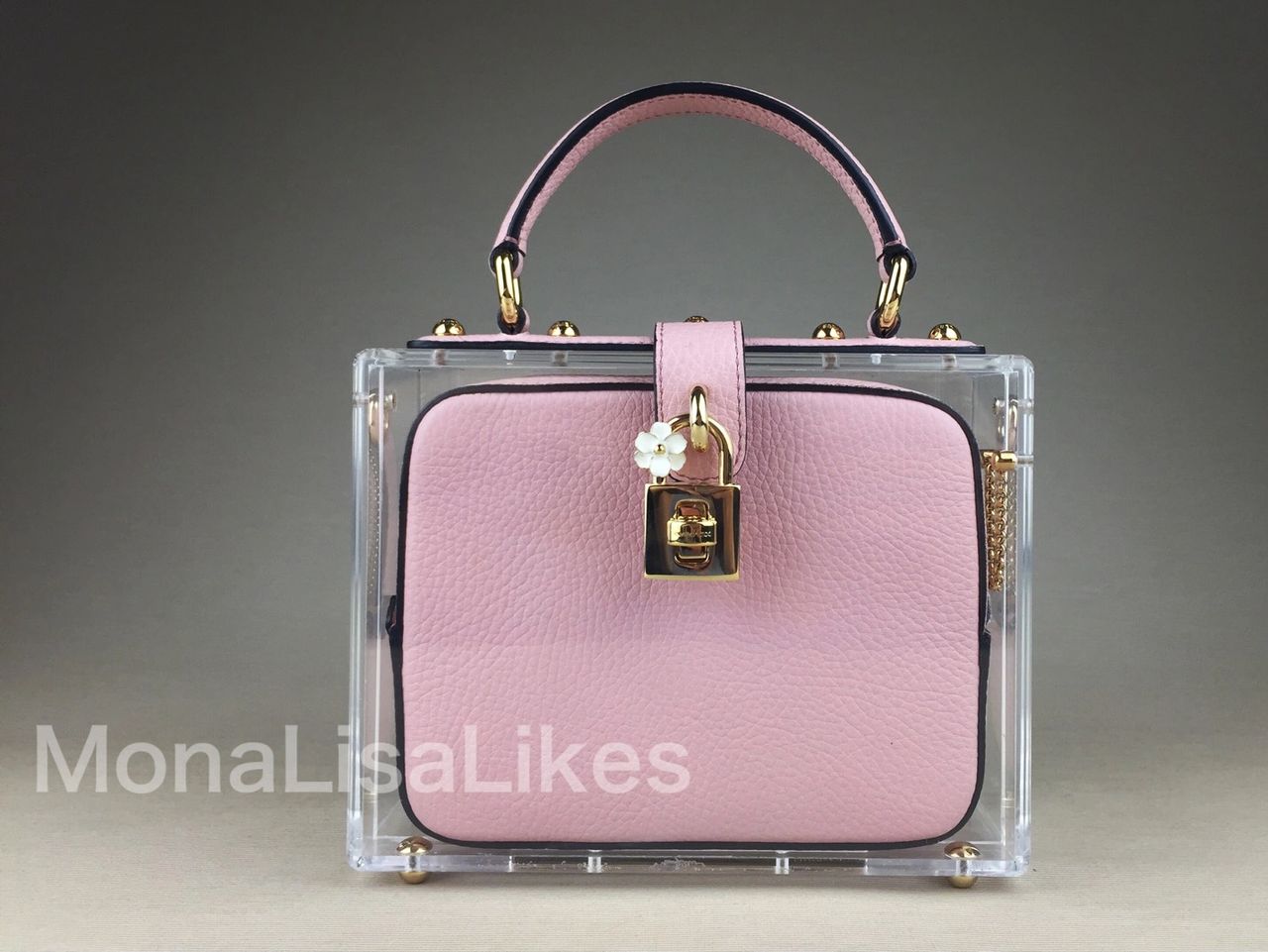 Dolce & Gabbana Alta Moda is a closed fashion show with only specially invited guests, where Domenico Dolce and Steffano Gabbana show there most fabulous, insane and impressive items.
These items are only sold to invited individuals and never sold or displayed in stores. In 2016 in La Scala Dolce & Gabbana presented their hand made wooden bag with opera posters and privately offered it to their guests.
This bag was also displayed and sold by Monalisalikes to one of collectors.
DG Millenials handbag is a modern flap bag for everyday use, usually made in bright designs, oriented on younger audience.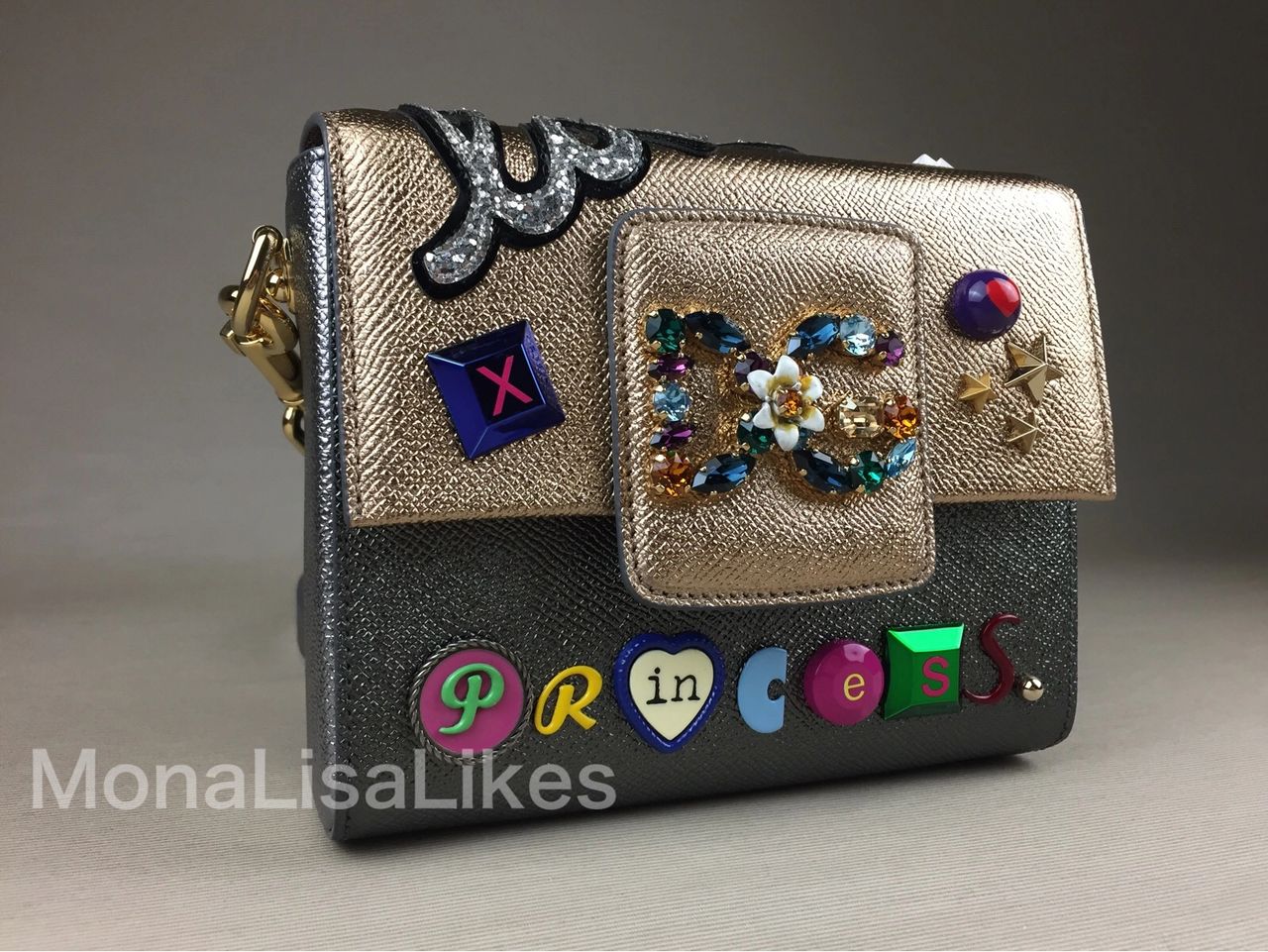 DG Devotion bag was first appeared on runway on drones! Thus Dolce & Gabbana made a statement, that they are the most modern and up to date brand.
This bags is for those, who think that classic CHANEL flap bag and Boy bags are dinosaurs and their era has ended. DG DEVOTION patterns and colors are always calm and classy.
Dolce & Gabbana Lucia is a whole line of modern bags, united by an elegant and beautiful closure. It includes top-handle bags, chain bags, shoulder bags and wallets. Elegant in design these handbags always come in elegant prints and materials.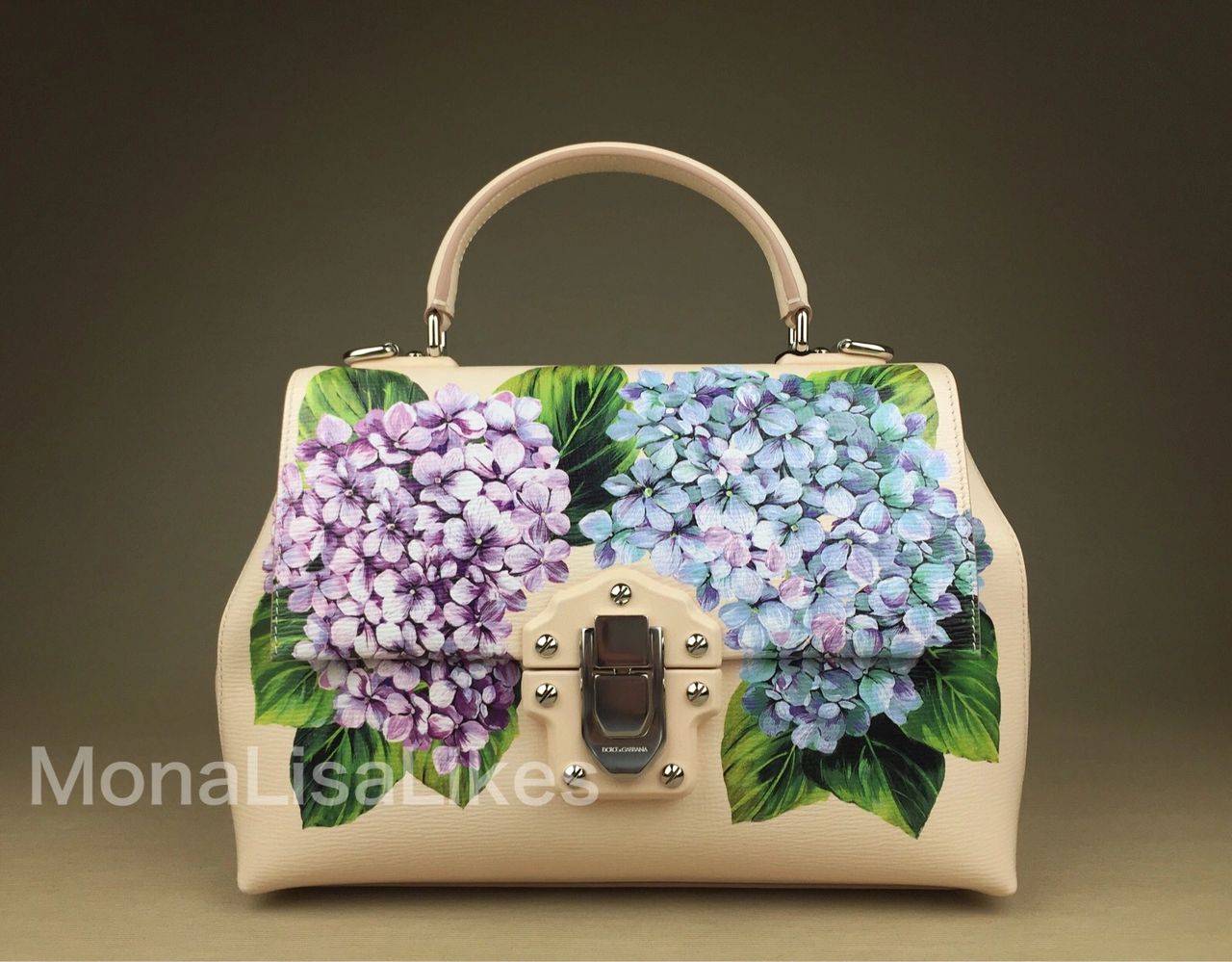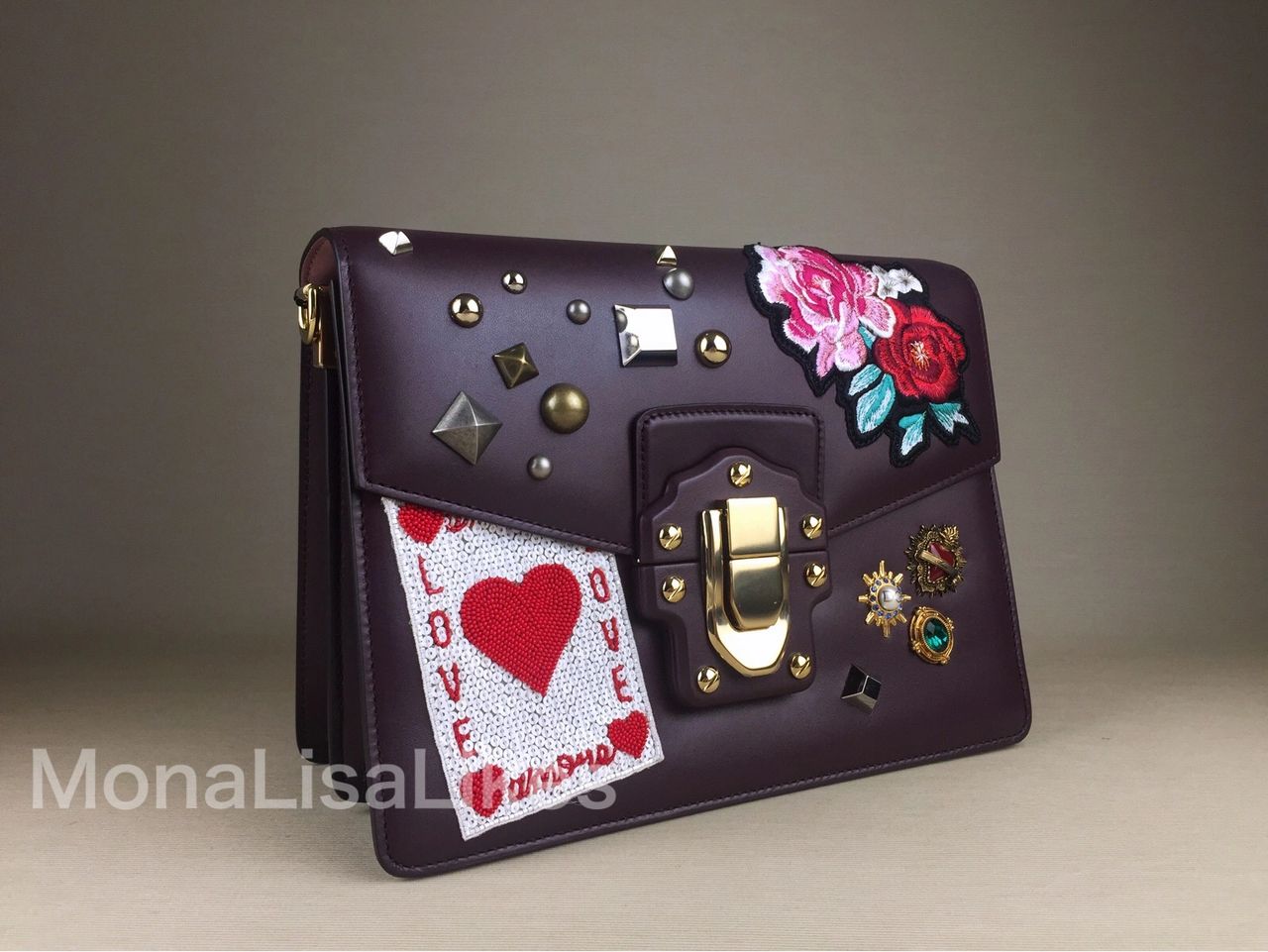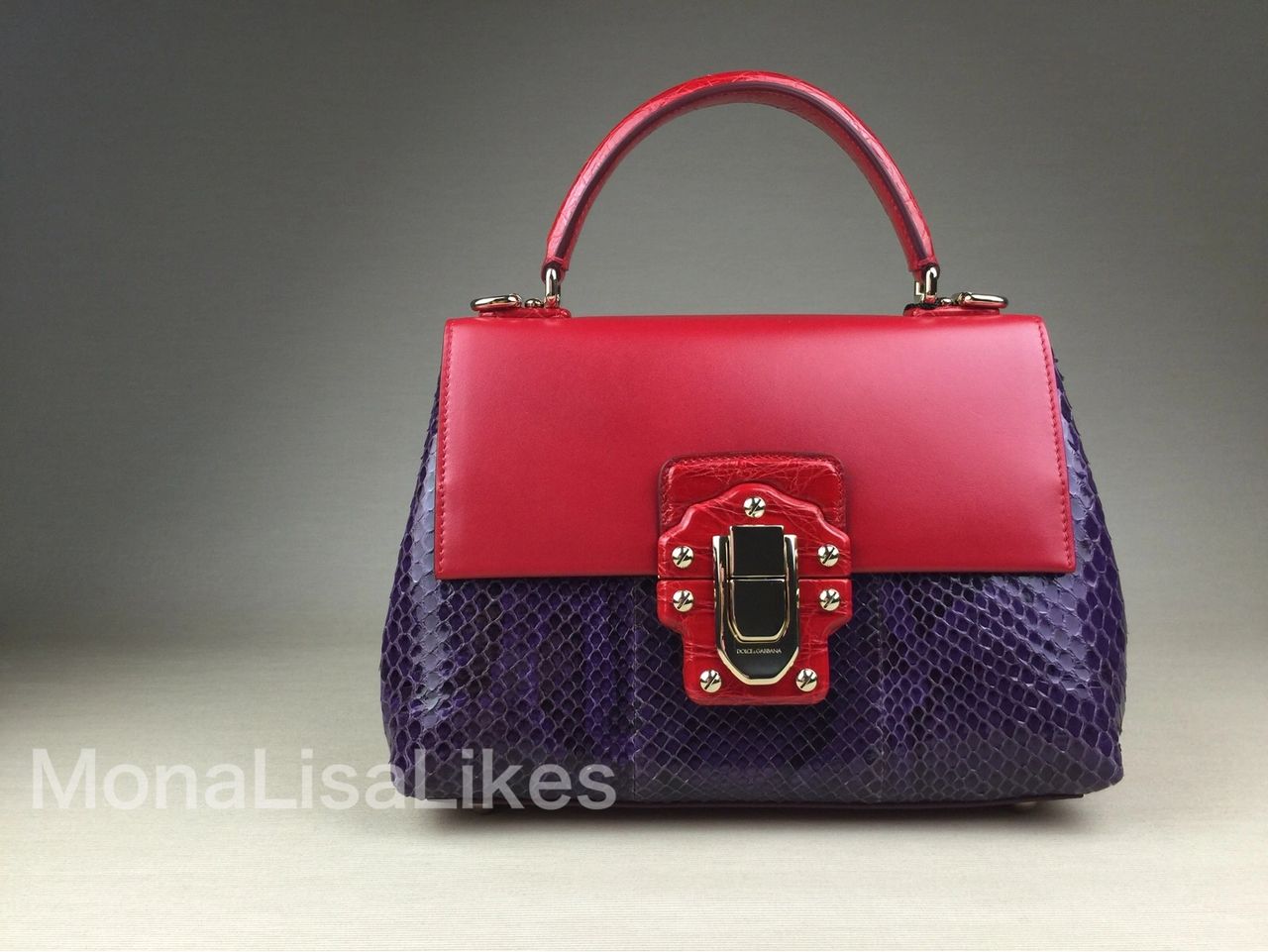 Dolce & Gabbana bag DESIGNS reference guide:
One of the most iconic Dolce & Gabbana designs of recent years is Majolica (or Maiolica), inspired by Sicilian ceramic art. Dolce & Gabbana modifies it's majolica prints from season to season, going from blue an white to yellow, orange and red additions, adding lemons and oranges.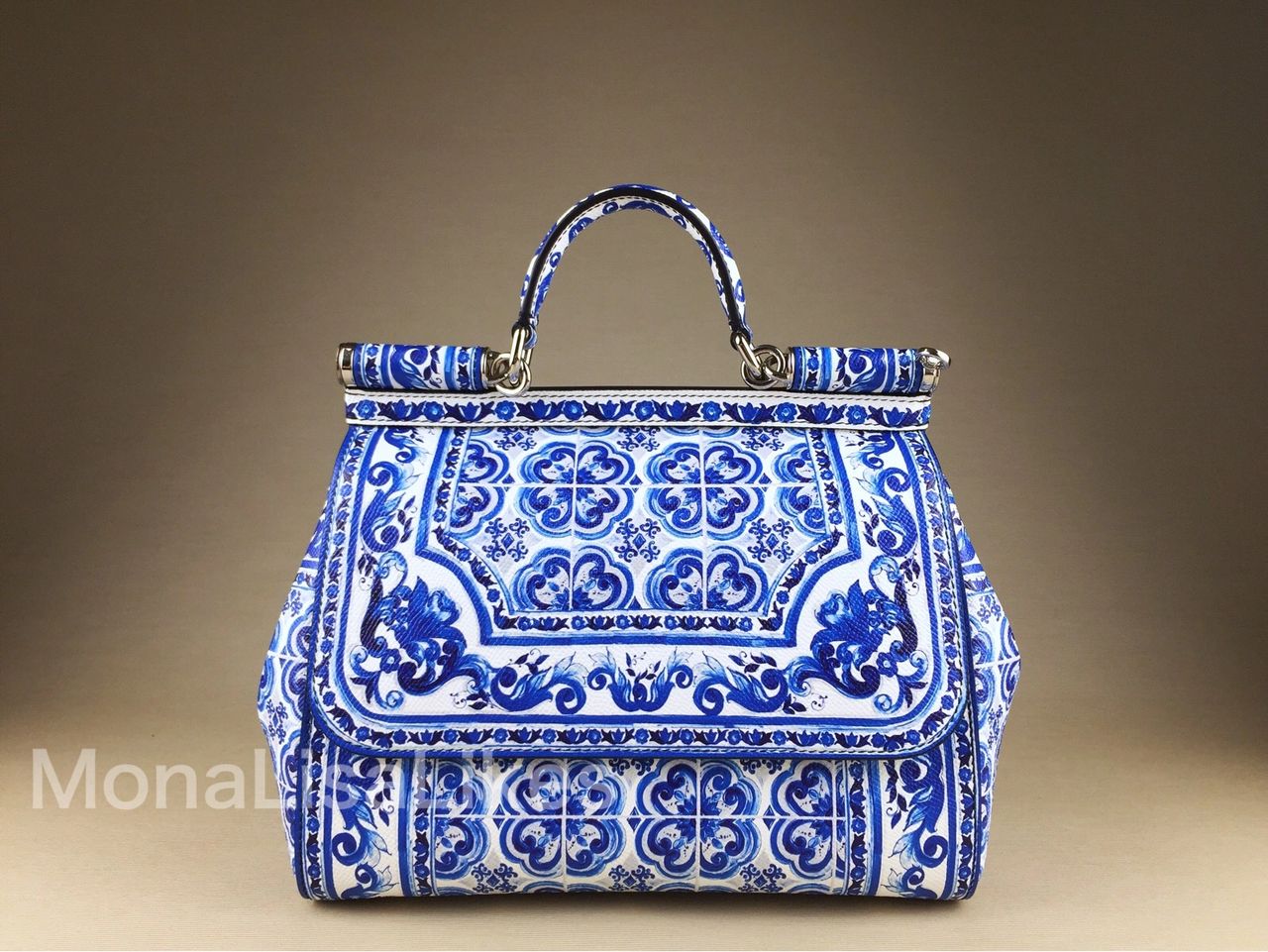 Carreto Siciliano print was inspired by traditional Sicilian donkey-drawn cart, generously decorated with ornaments and pom-poms.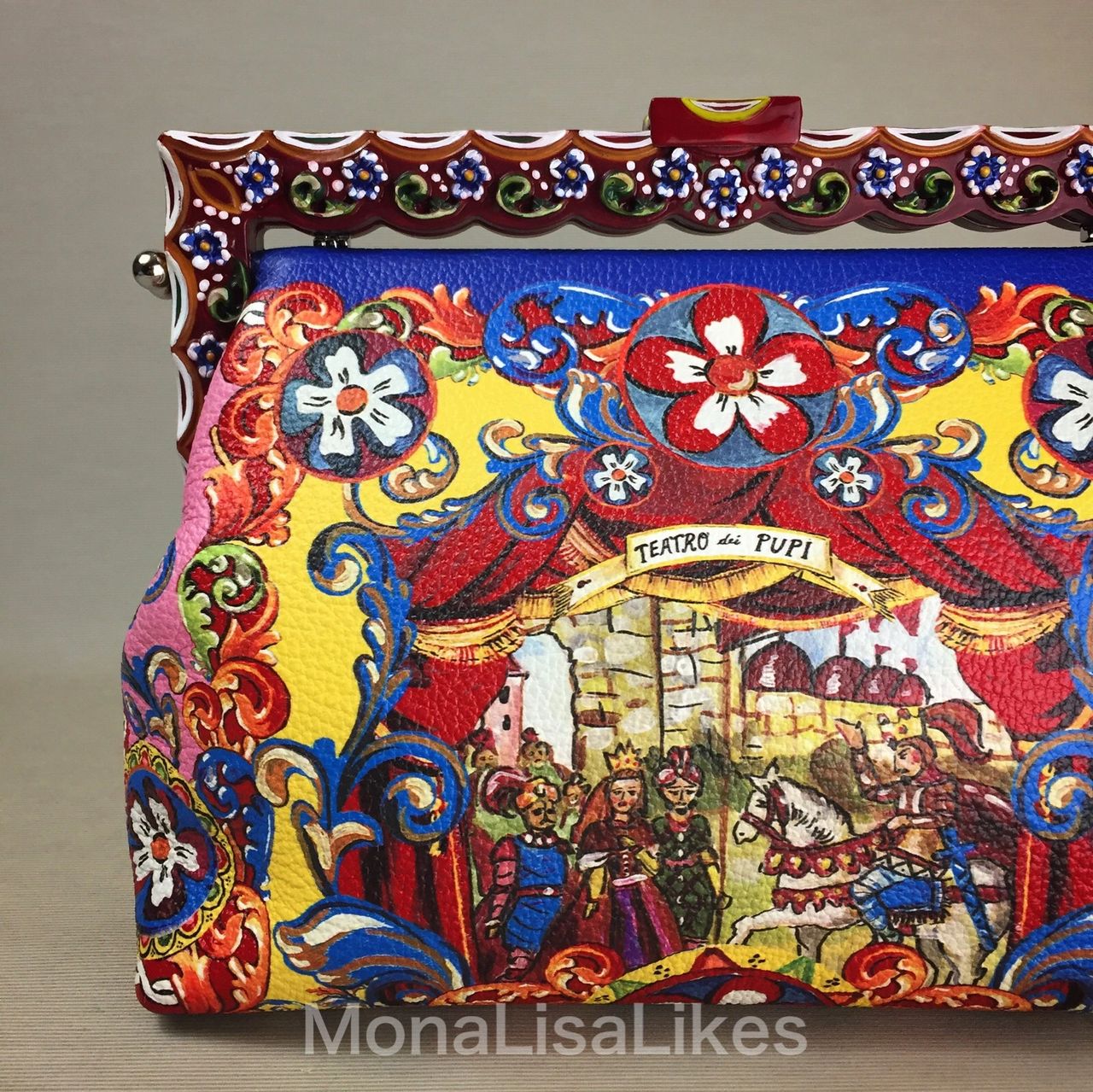 Floral Prints vary from season to season. They include wisteria print, poppy print, daisy print, roses print, peonies print, hydrangea floral print.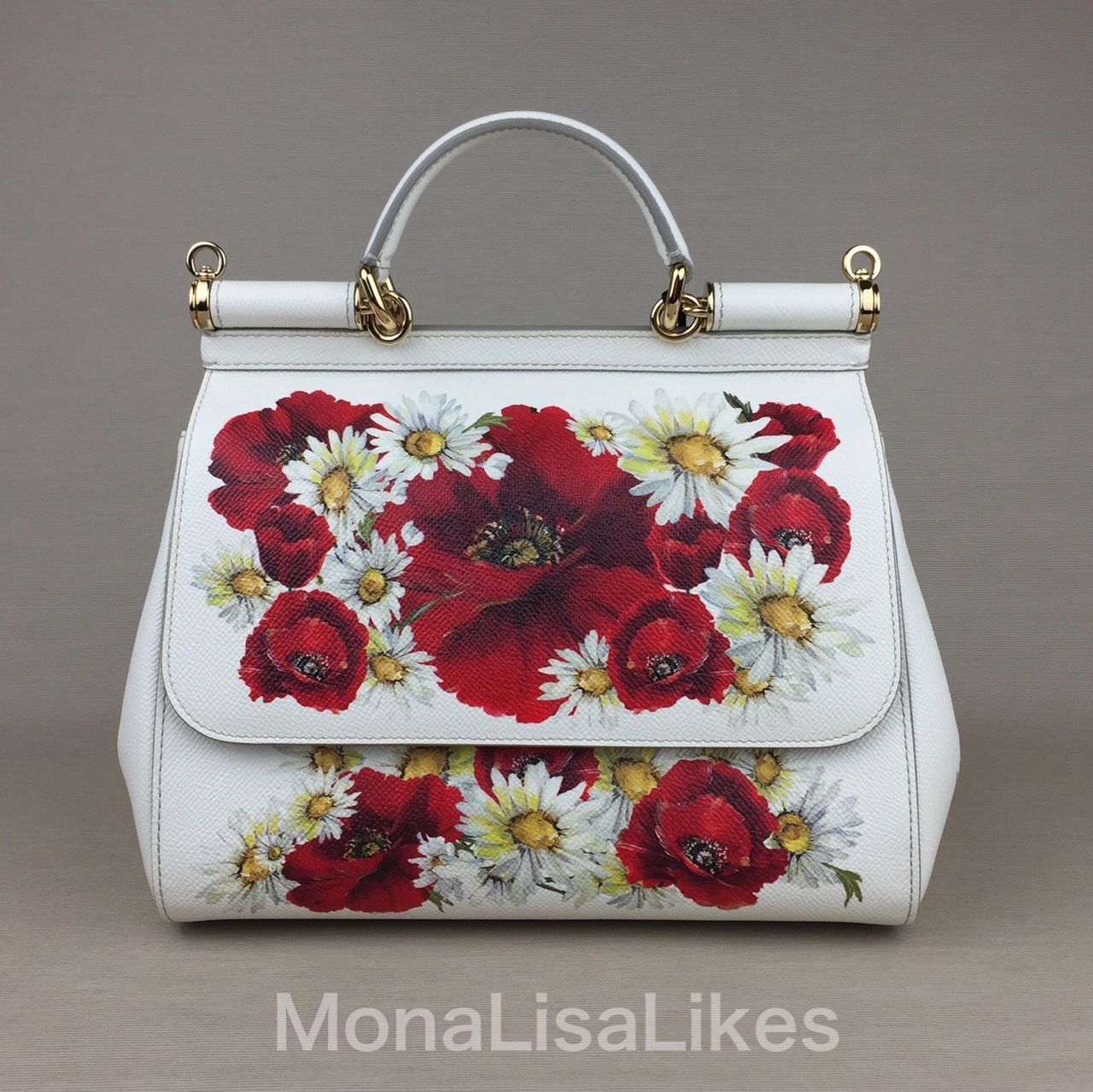 LEOPARD ANIMAL PRINTS are Dolce & Gabbana classics. They go back to the 80-s, when Dolce & Gabbana was established as a high end fashion brand. It revolves from season to season and includes whole range of DG items.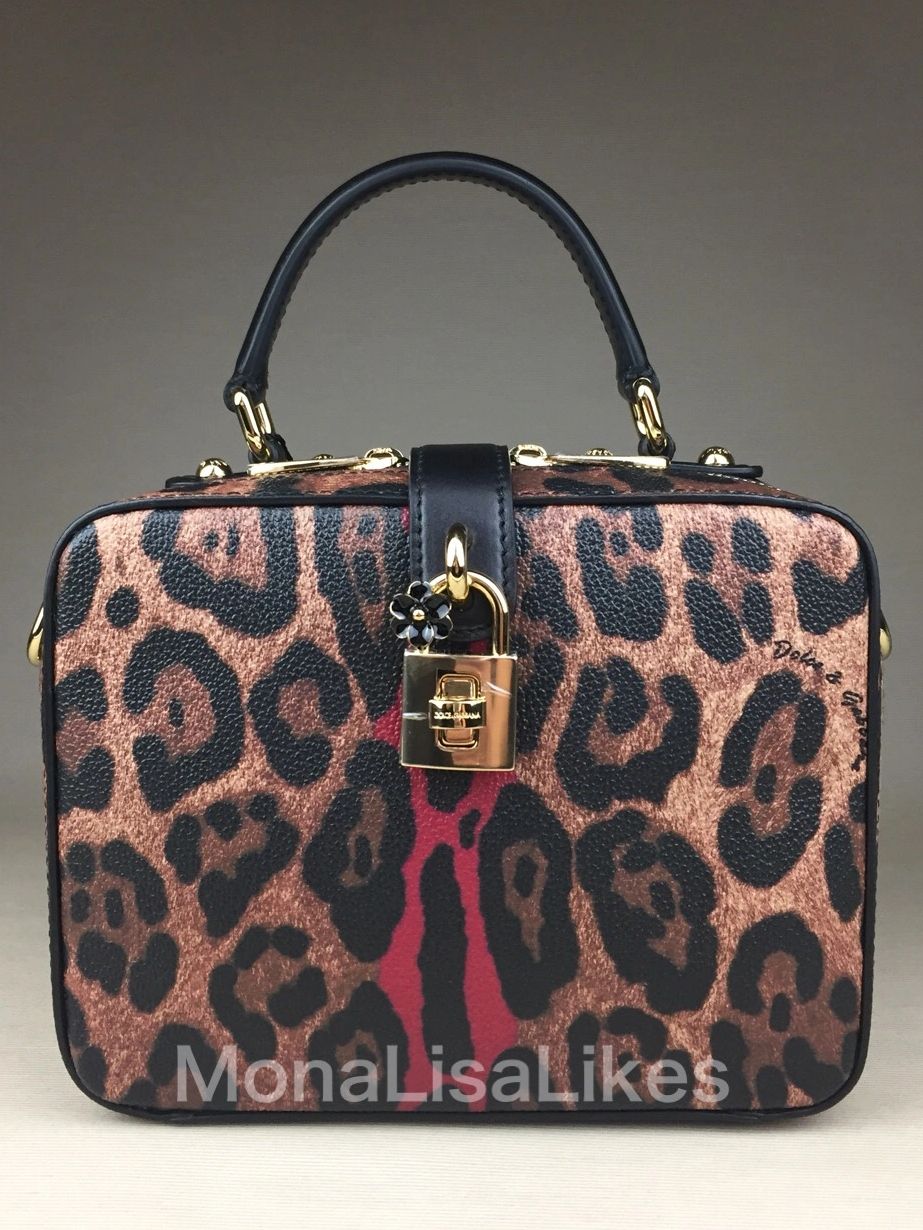 Palm Leaf was a one-season theme. Nevertheless it is still very popular among fashionistas and is 100% recognizable Dolce & Gabbana designs, still replicated by others, including Michael Kors.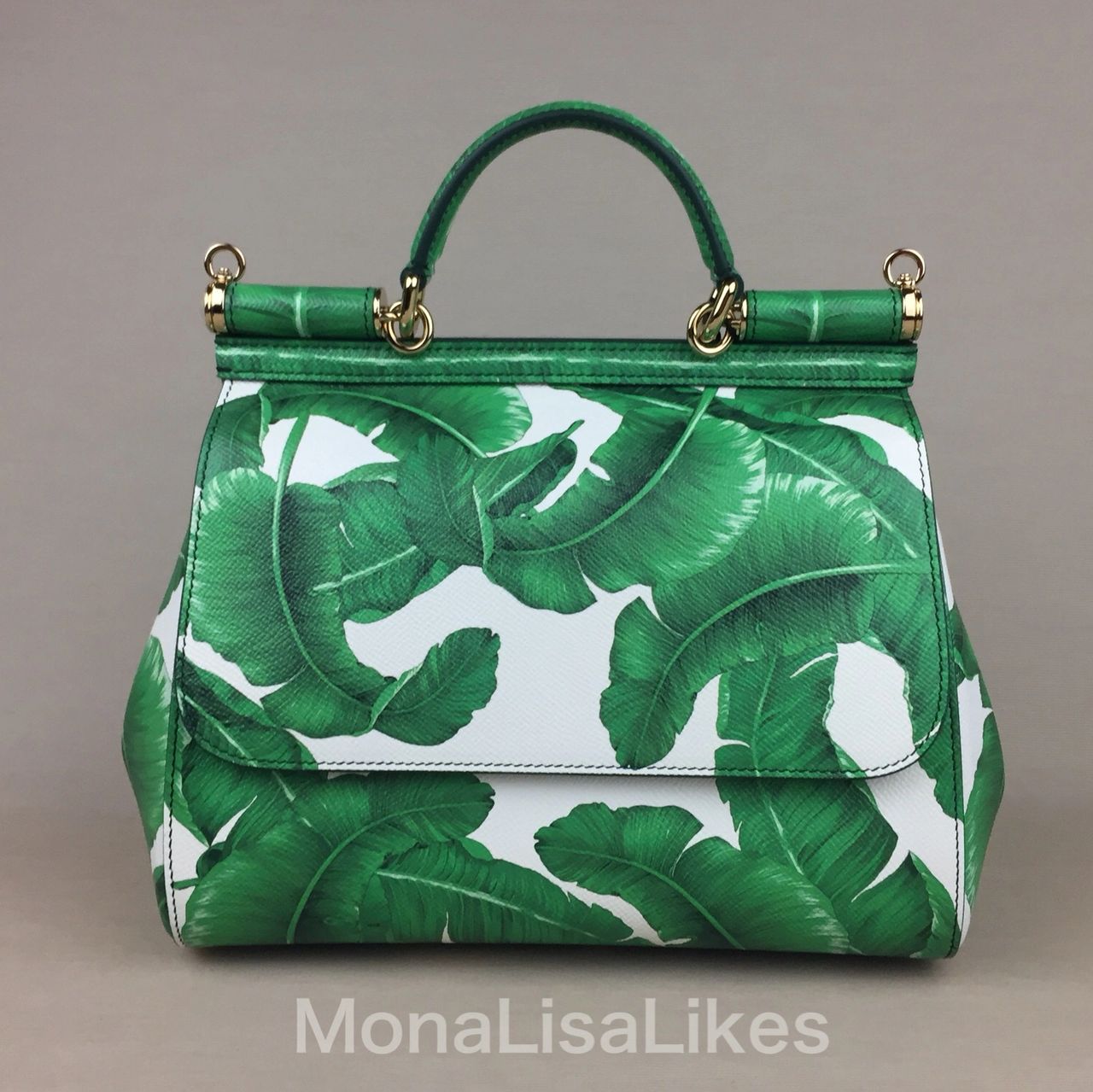 Graffiti Print is the trend of 2018. It includes graffiti texts, tin cans, signs and many more.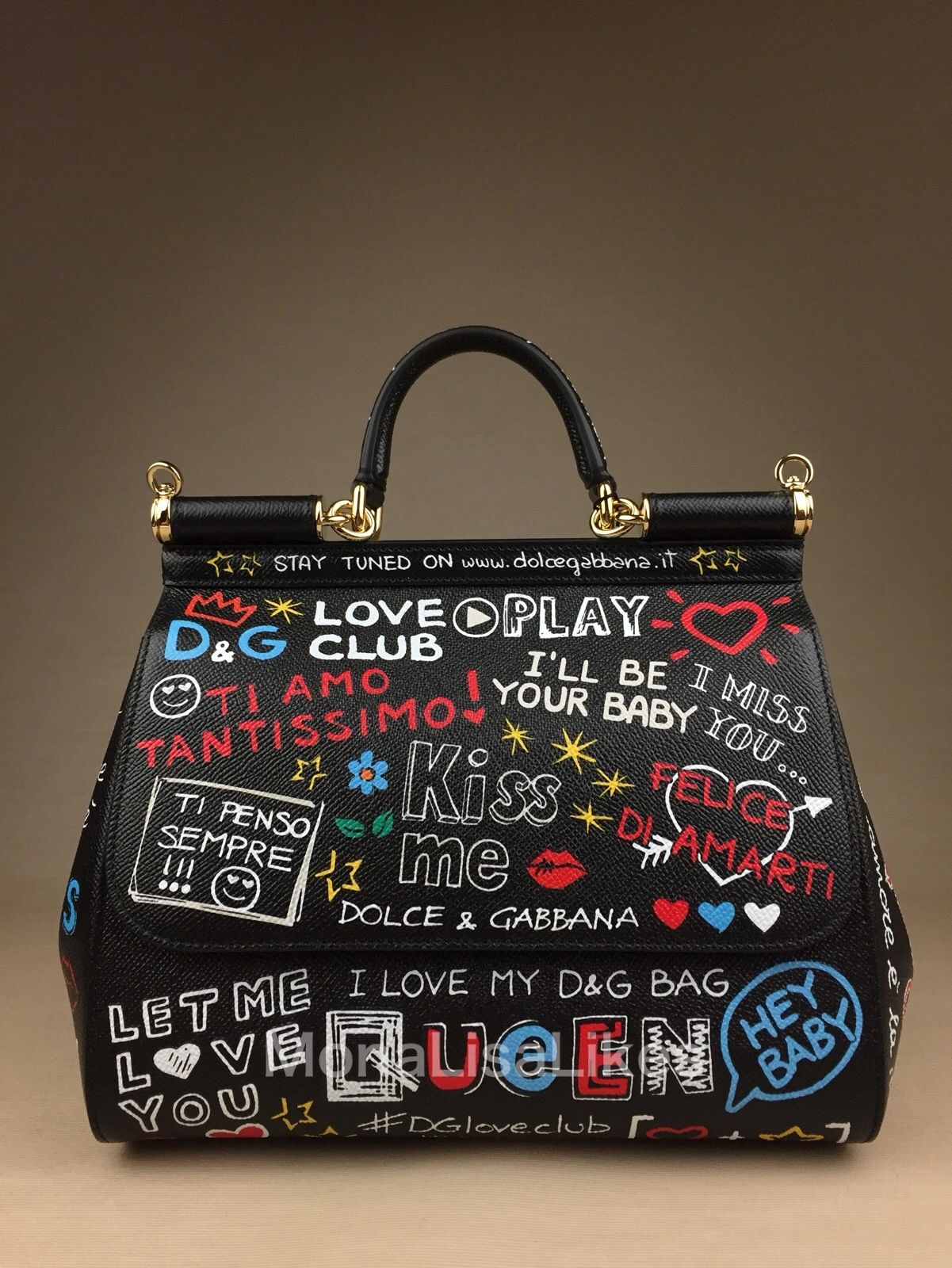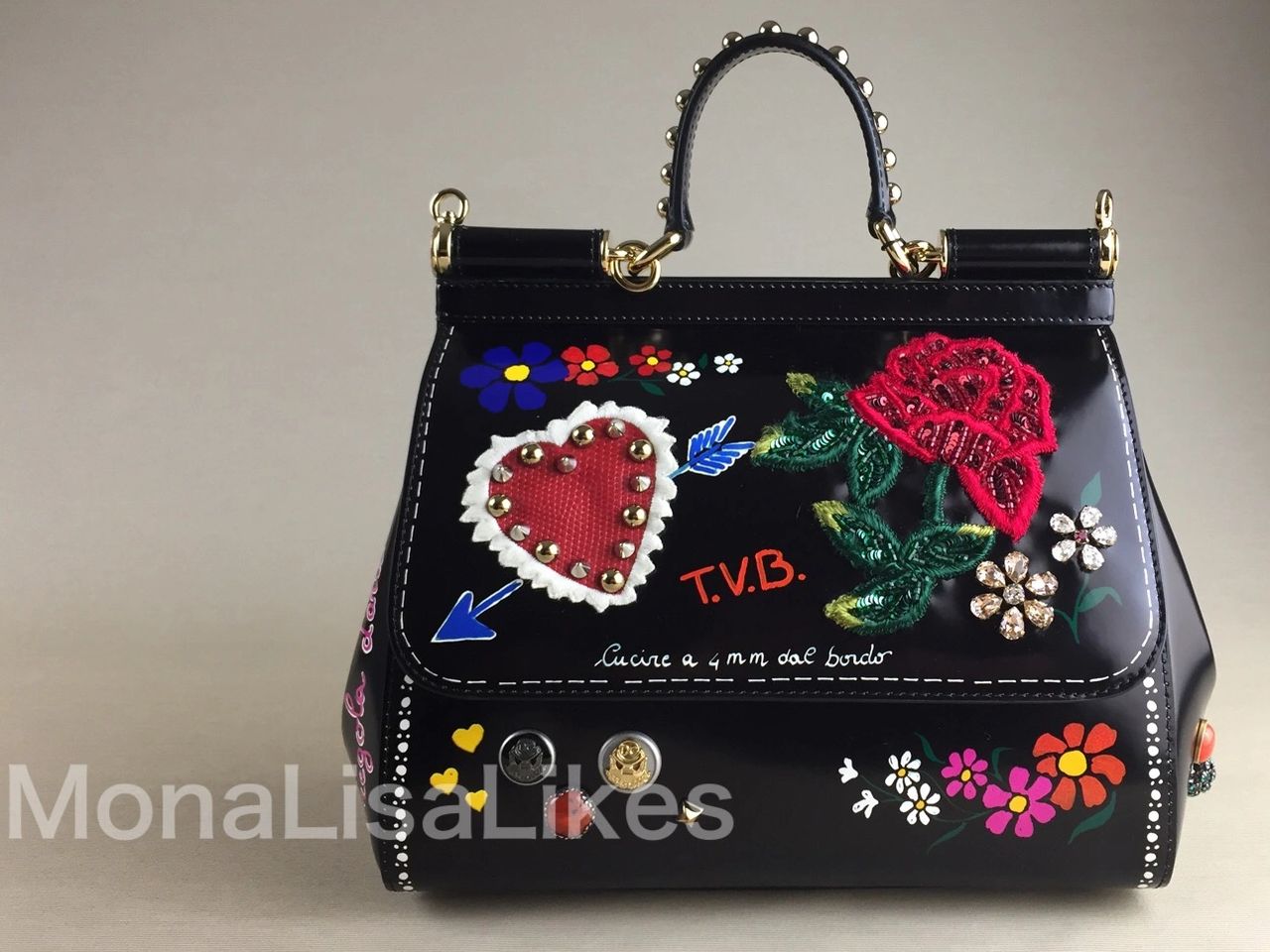 DG Heaven and Fashion Sinner was introduced in 2018 and includes a whole range of designs with hearts, angels and bold embellishments.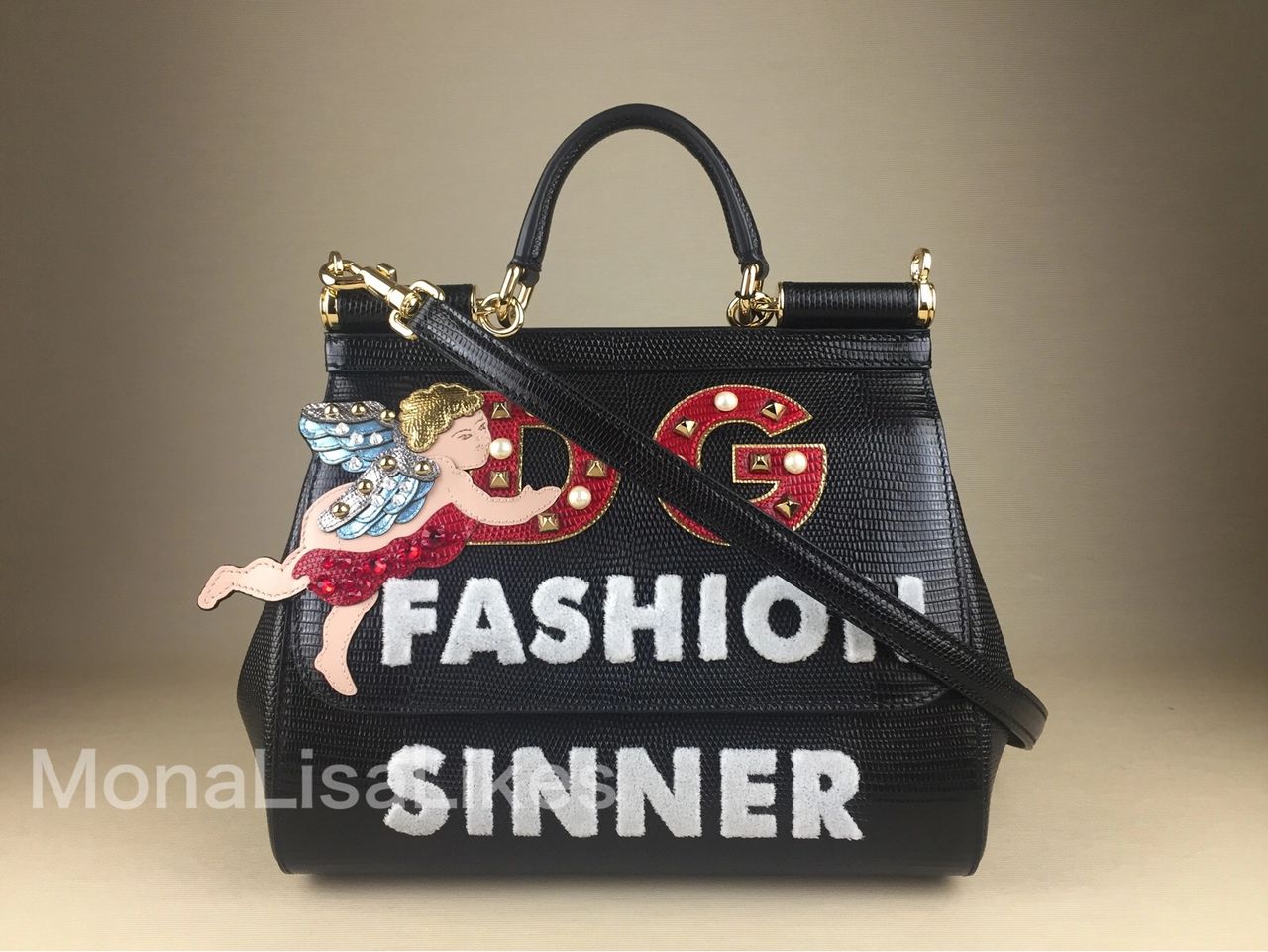 PEONY print is a hit of 2018. Being a modern version of Dolce & Gabbana floral print it replaced ROSES prints, used in previous collections.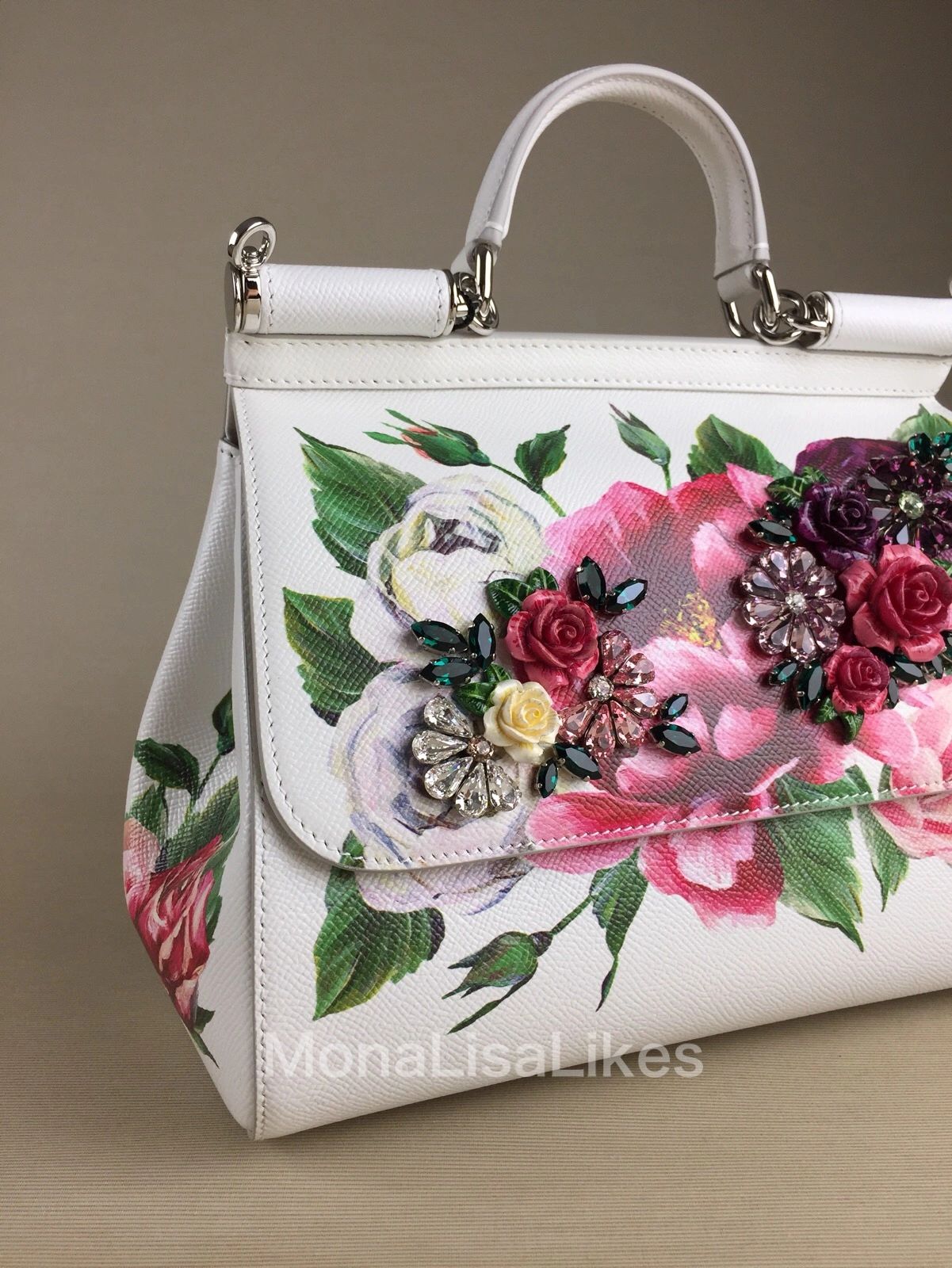 WISTERIA print was replaced by HYDRANGEA print, both being one of the most tender and elegant floral motifs of fashion world in recent years.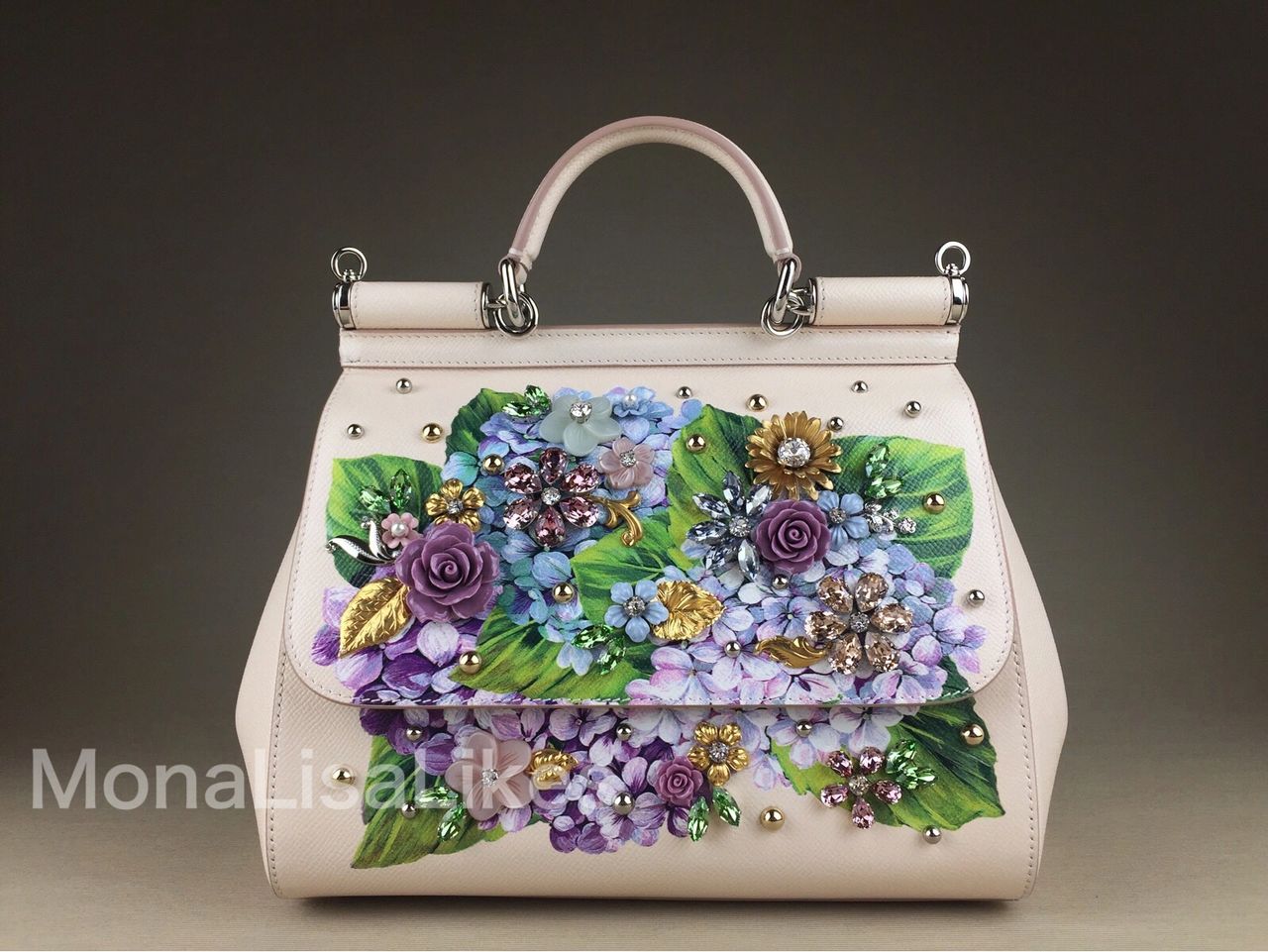 Dolce & Gabbana comes with new patterns and creates new breathtaking bag designs every season and we are constantly adding new details to our Dolce & Gabbana bag reference guide. MONALISALIKES.COM is a place to buy most fabulous Dolce & Gabbana bags at the best prices every day! Please visit our store and sign up for our newsletter to receive the hottest arrivals and offers.
More Articles
We divided our catalog in multiple categories for a better experience
Subscribe to our Newsletter and get -10% OFF your first purchase
Stay updated with newest arrivals and exclusive designer deals.