In the last couple of years Dolce and Gabbana handbags made a huge progress in design, gaining more popularity. The market reacted by increasing of the prices in reselling channels like eBay and Amazon and … offering more and more fakes.
The goal of this guideline is to explain in simple steps how to distinguish a fine real Dolce and Gabbana handbag from a replica (sometimes a very good one).
If you're not a good reader, we've created amazing videos on how to spot Dolce & Gabbana handbags, purses and more.
Authenticate your Dolce & Gabbana Part #1
Authenticate your Dolce & Gabbana Part #2
Latest updated video 2019: Authenticate your Dolce & Gabbana Purse Part #3.
Now, lets continue with the article, hope you liked our official videos.
We are not going to offer you complicated tools like counting the stitches per foot like some other recommend to do regarding Chanel or Hermes. Nor we are going to explain in words how the softness of authentic handbag feels.
As Miss Sicily is the most popular, most searched and thus most replicated Dolce Gabbana handbag we will focus on this bag model to explain the key steps to authenticate your future Dolce and Gabbana handbag.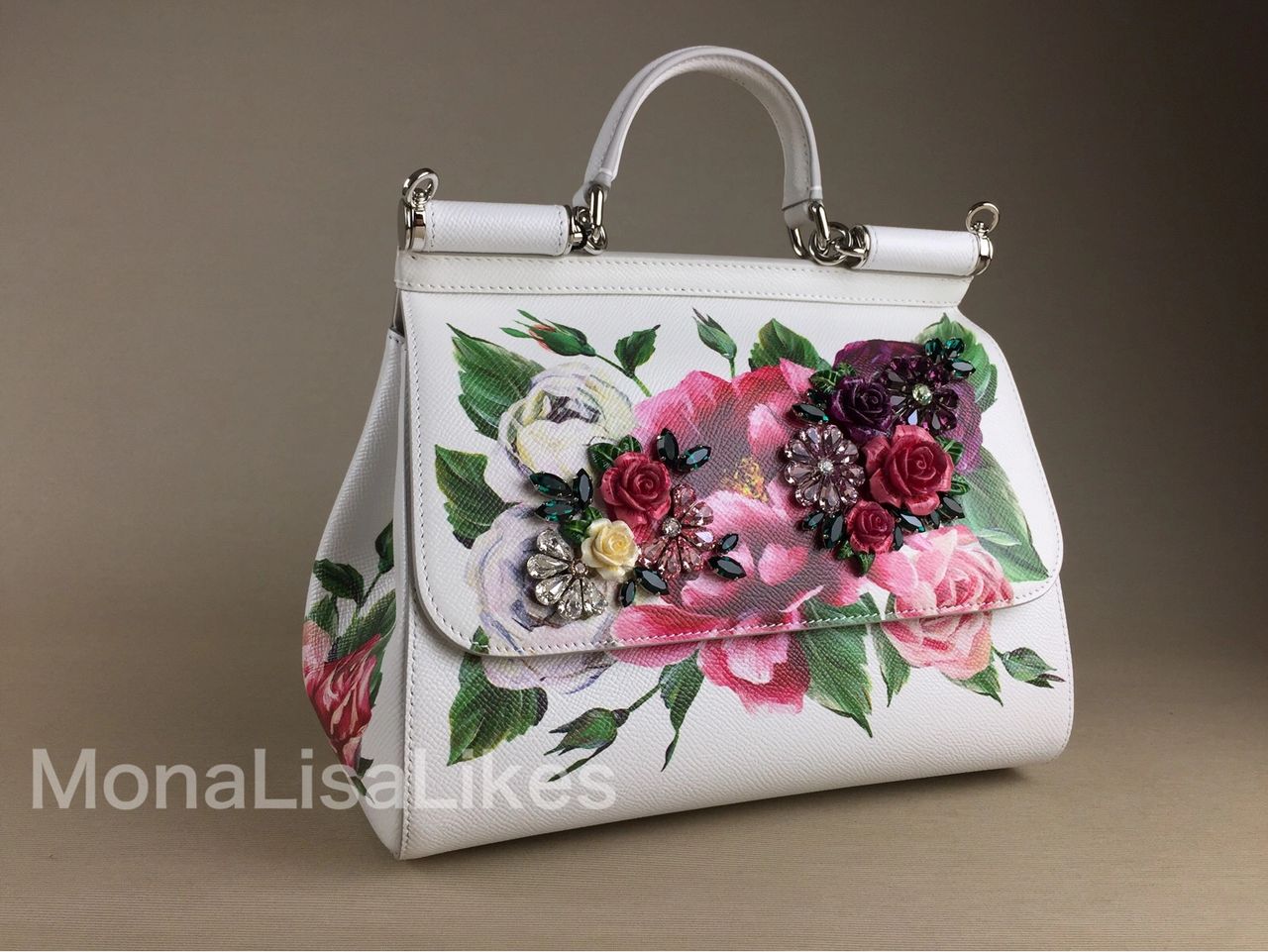 As you may know Dolce and Gabbana has two main brands: the main Dolce and Gabbana (the upscale and more expensive one) and secondary D&G (more mass market with lower pricing and quality).
Not to confuse our readers we will not refer to Dolce and Gabbana as D&G and will focus only on the items of the main brand.

So in order to tell if the bag is authentic or not just follow these checkpoints
1. Rings
Dolce and Gabbana purse rings are a key factor, the main and simplest way to tell. Rings that are used in hardware that holds the handle are ALWAYS solid and whole.
They always have a shape of a round "O" with no seams and no gaps. Most of the replicas use the "C"-shape rings with a gap.The last ones are much more simple to manufacture and don't require special technology and skills. If the bag has "C" rings, you don't have to continue the quiz – it is fake.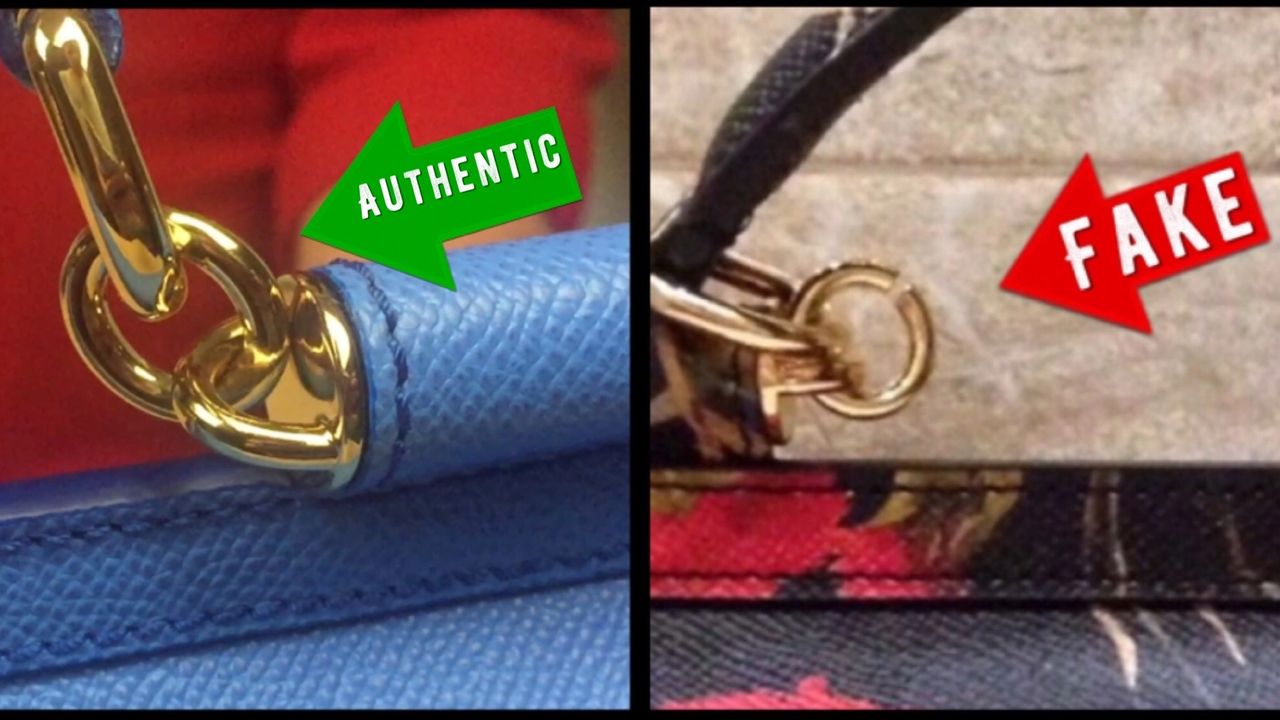 2. Plastic and wrapping
Brand new authentic Dolce and Gabbana handbag has its handle and shoulder strap covered with soft white plastic (or it might not if the seller has removed it to take pictures of the bag). But transparent plastic is a 100% sign of a replica.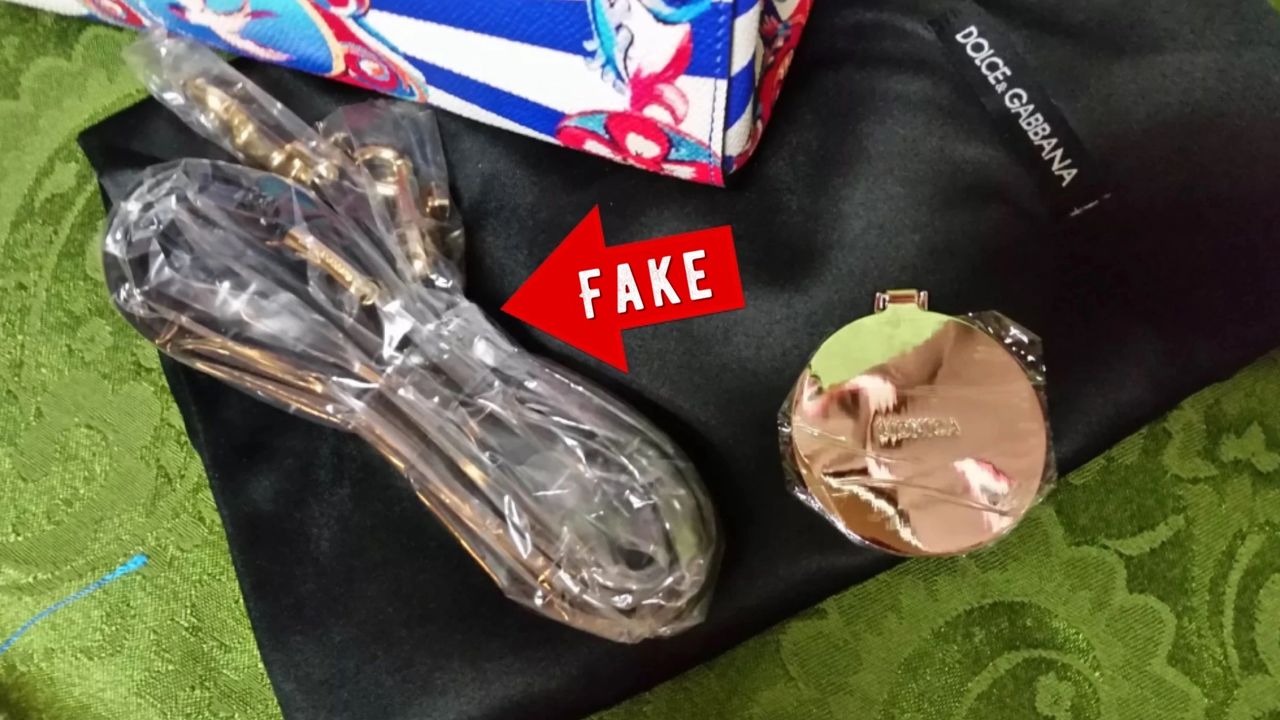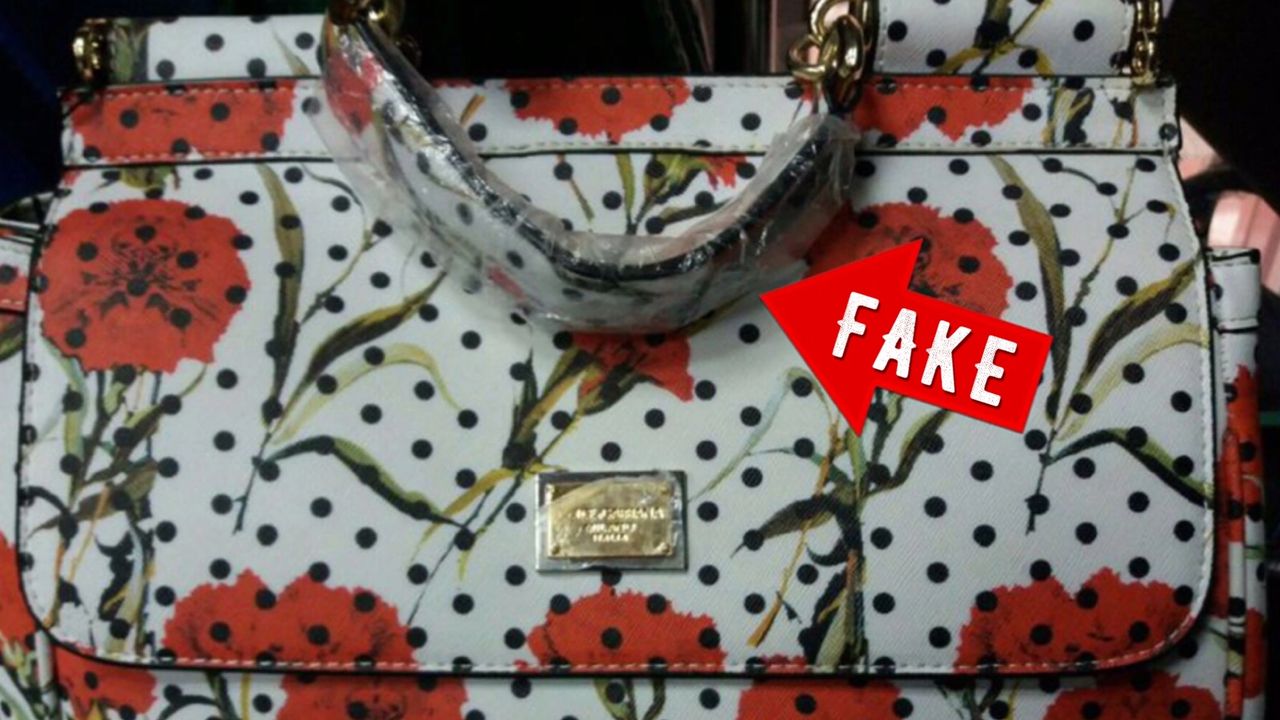 3. Metal plates
Metal plates with logo and magnetic closures might be covered with appropriately sized white or blue film. Square white transparent film is never used for round closures.
4. Engraving
Authentic handbag has a very thin and delicate engraving on the front plate. Usually it says "Dolce & Gabbana MILANO ITALIA". The plate itself is very smooth and shiny.
Replicas have deep and thick engraving and may contain other text like "made in Italy". They may also be not smooth and the gold color is cheaply yellow. The depth of the text is often times uneven from one side to another. The inner plate of authentic handbag is the same color as the outer. It usually says: "Dolce & Gabbana MADE IN ITALY".
In older bags it could be made of leather, not metal. Starting from Fall 2017-18 collection on some Miss Sicily bags Dolce & Gabbana instead of an inner metal plate started printing "Dolce & Gabbana SICILY MADE IN ITALY" directly on the leather pocket, where the mirror is placed.
If you find a modern bag from recent collections with a leather plate inside – you have to double check all the other points.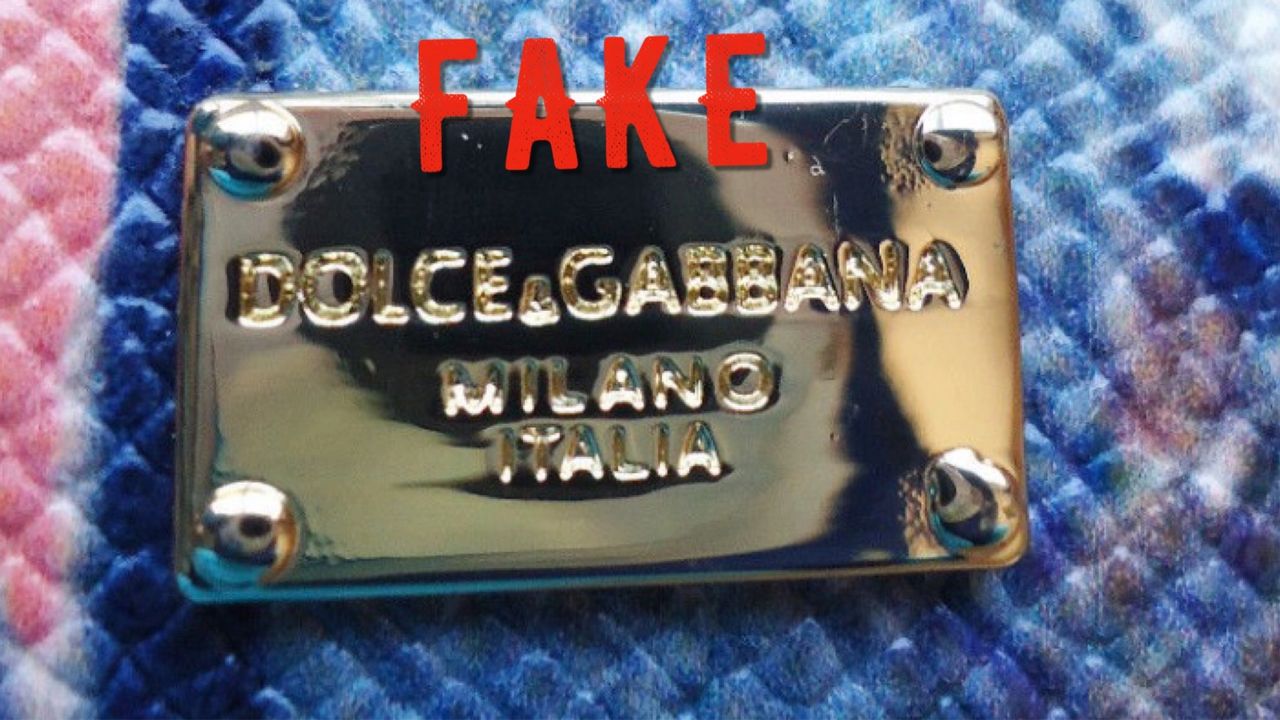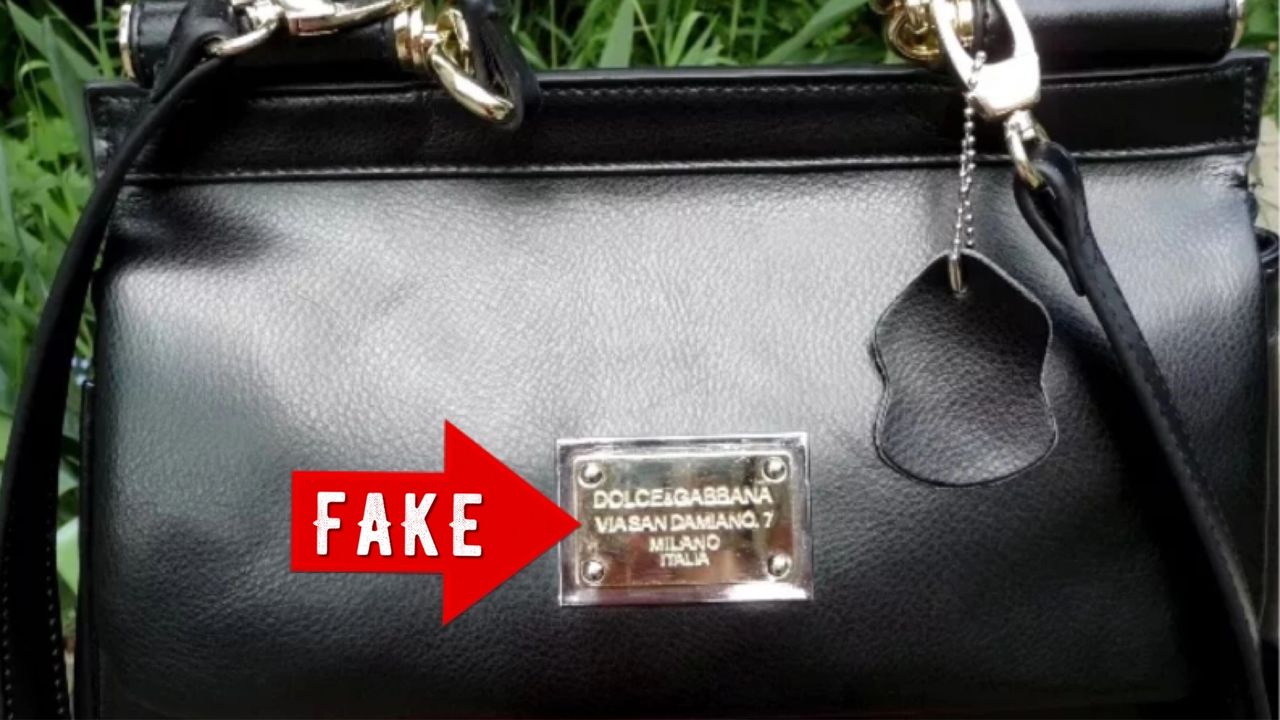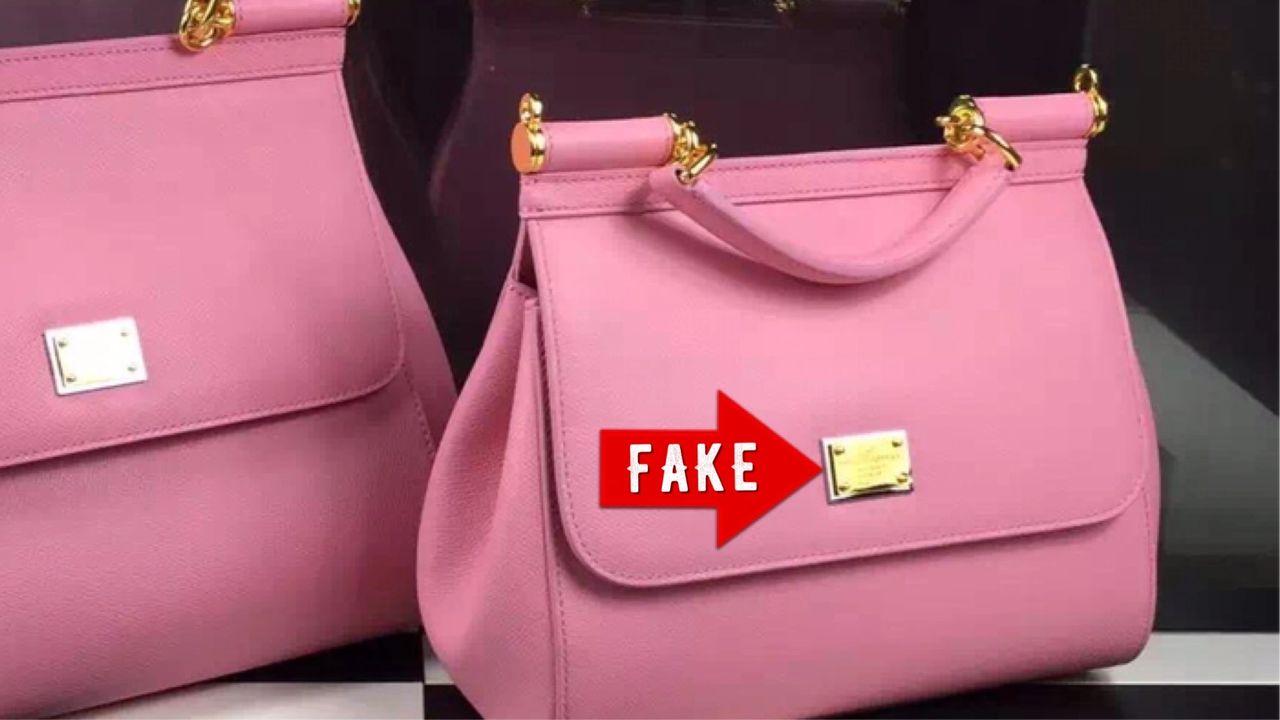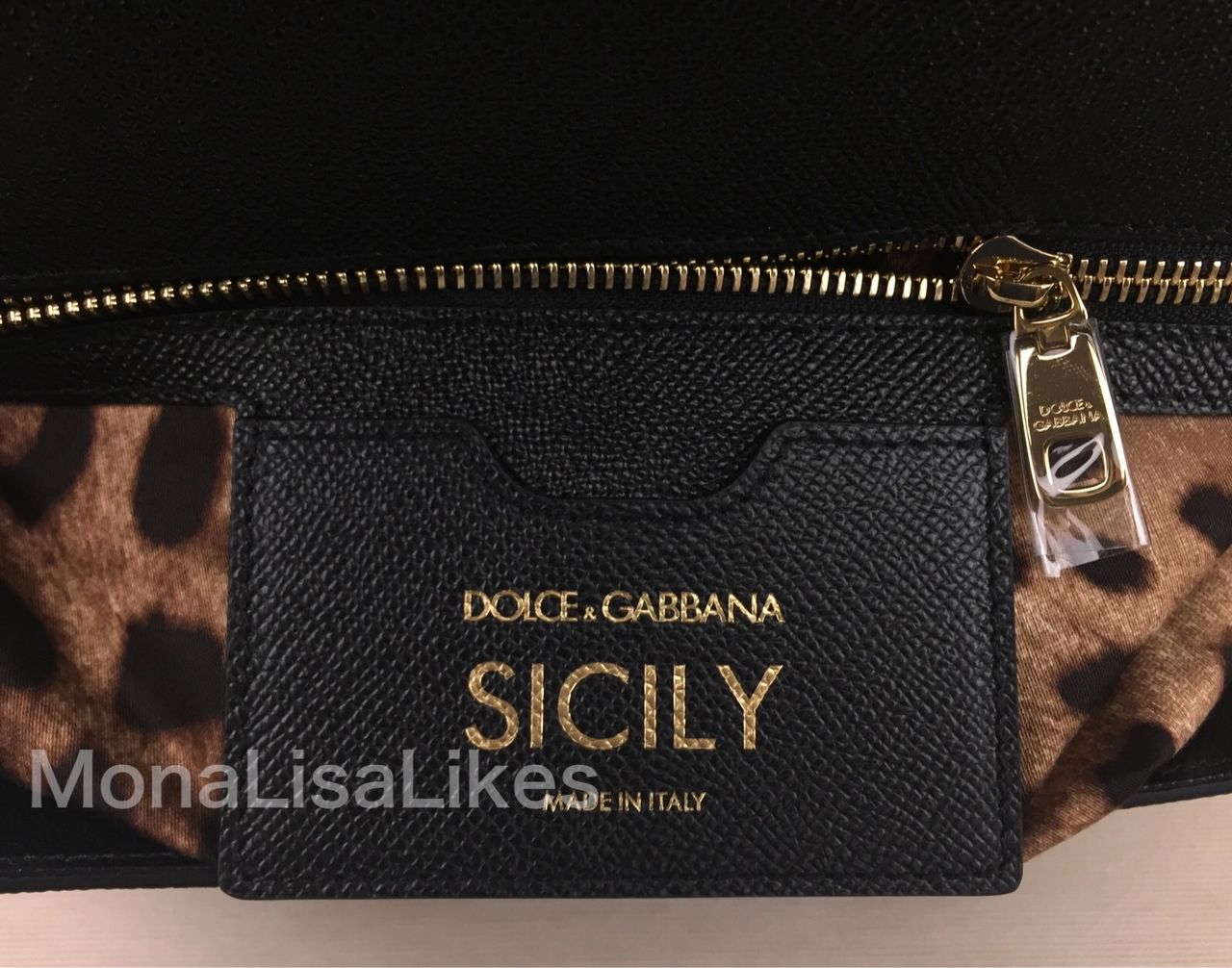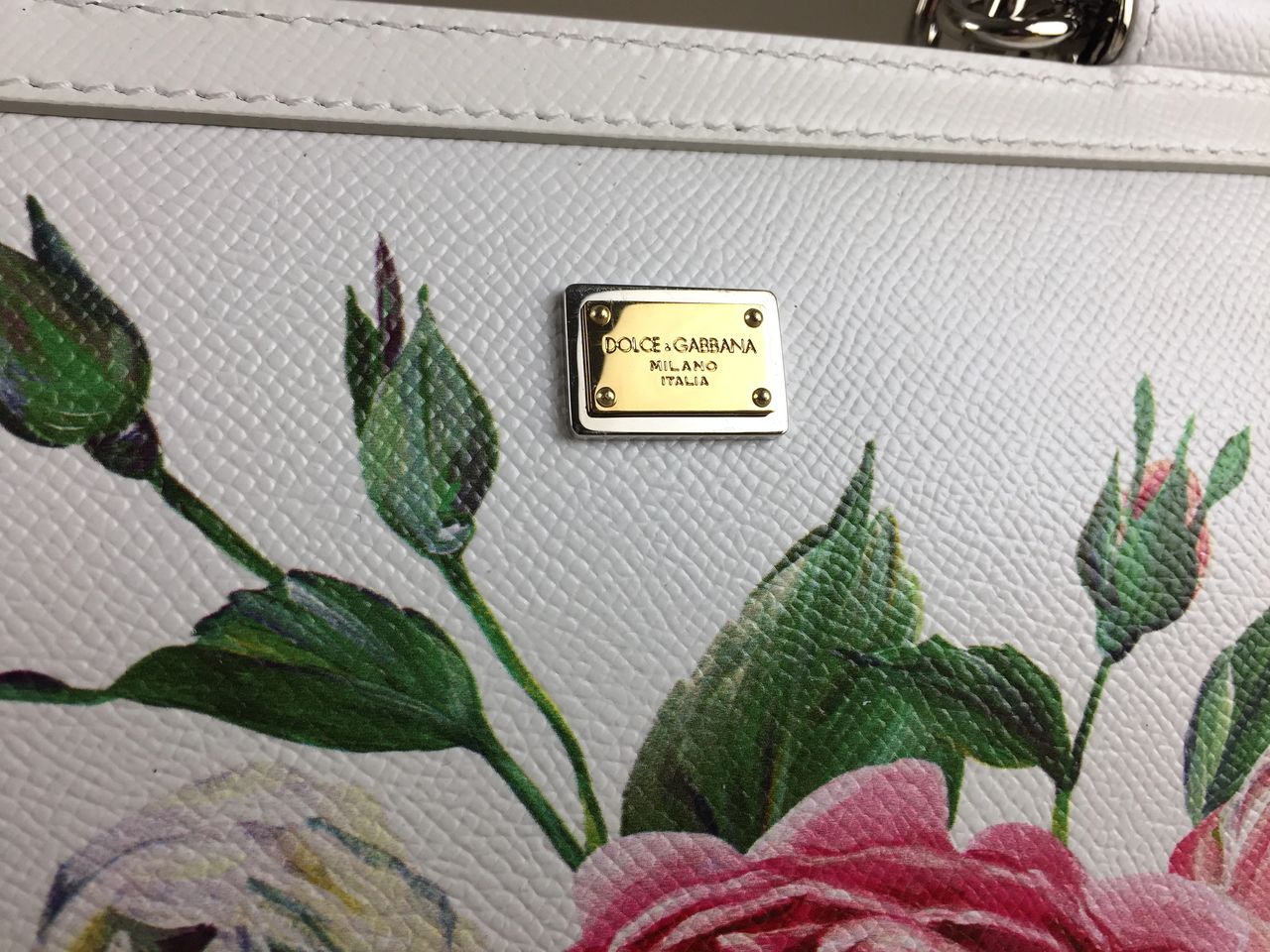 5. Engraving on shoulder strap.
There is also Dolce & Gabbana engraving on the buckle of the shoulder strap and bottom studs. Small and micro size Miss Sicily bags may come without bottom studs. But if there are studs – they are engraved.
Pay attention that the font on these studs is different than in all other places – it looks a bit vertically stretched. There is NEVER any engraving on the magnetic flaps. Any letters there is a sure proof of fake.

6. Bag Material
The bag materials are always of very high quality. No wrinkles. Perfectly crafted. Fakes usually look very stiff and hard and not flexible, especially the shoulder straps . Most of the replicas have interior made with glossy nylon with leopard print, inner pockets look unnarrowed and do not adjoin tightly to the inner walls.
They often look like there is more fabrics than needed. Authentic lining is black or leopard, made of cotton, perfectly fitting, with tight pockets. Some limited editions may have floral or polka dot lining, sometimes brocade pattern.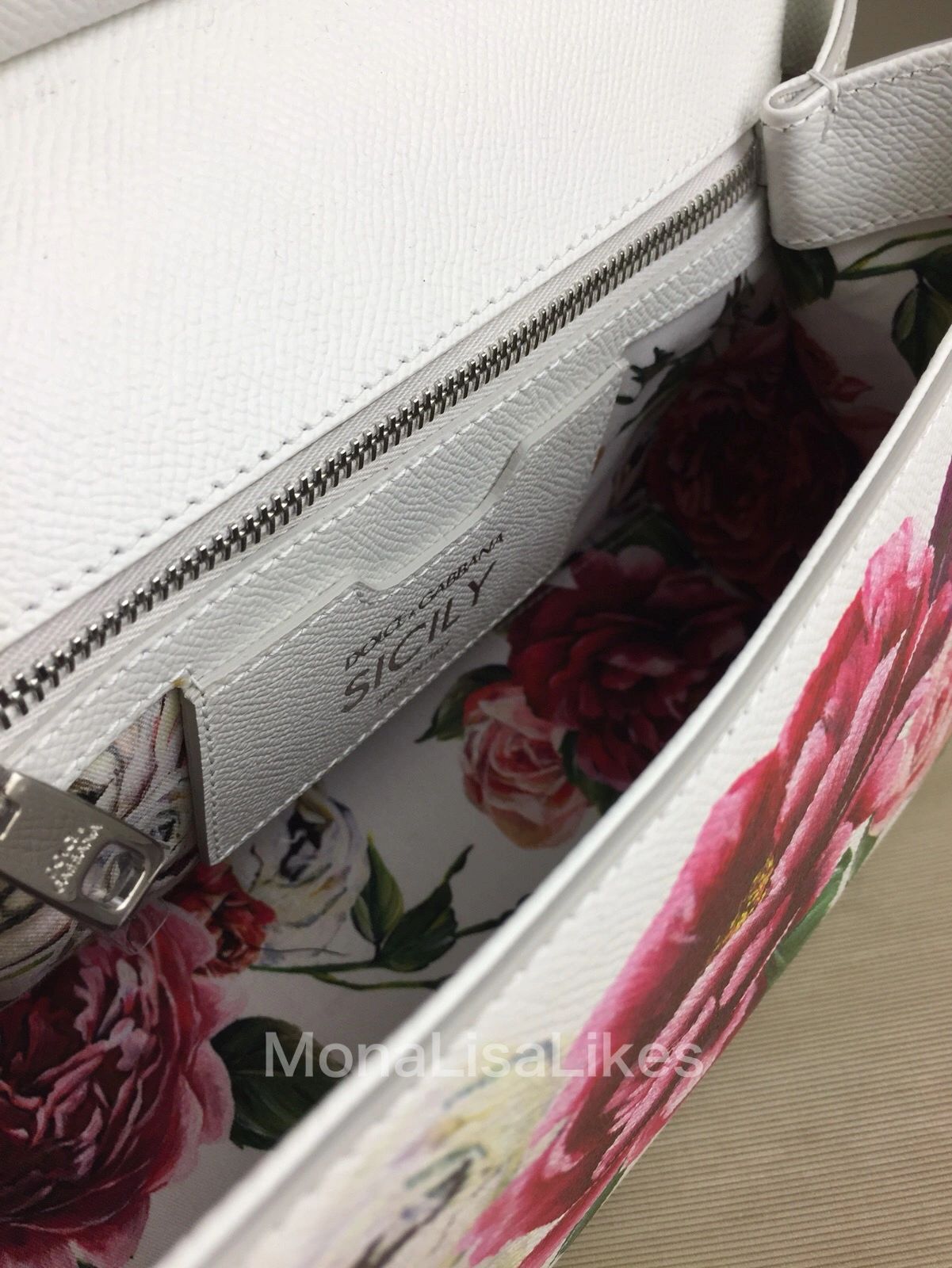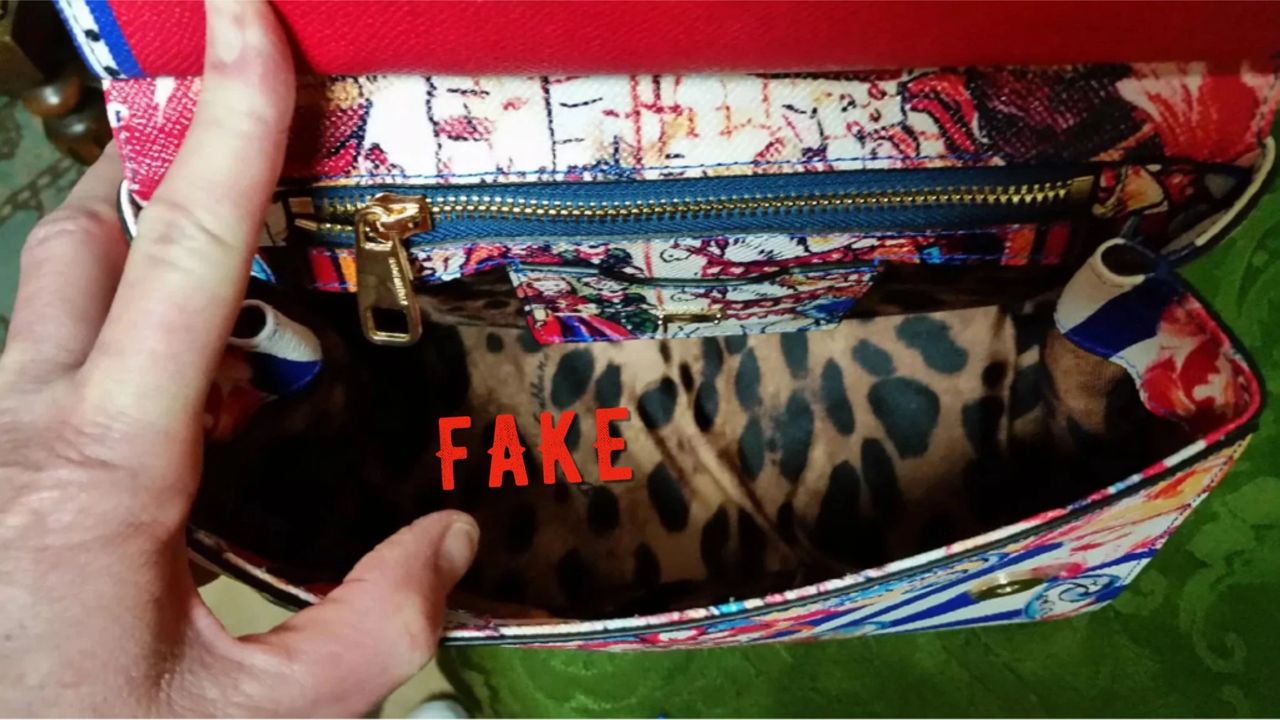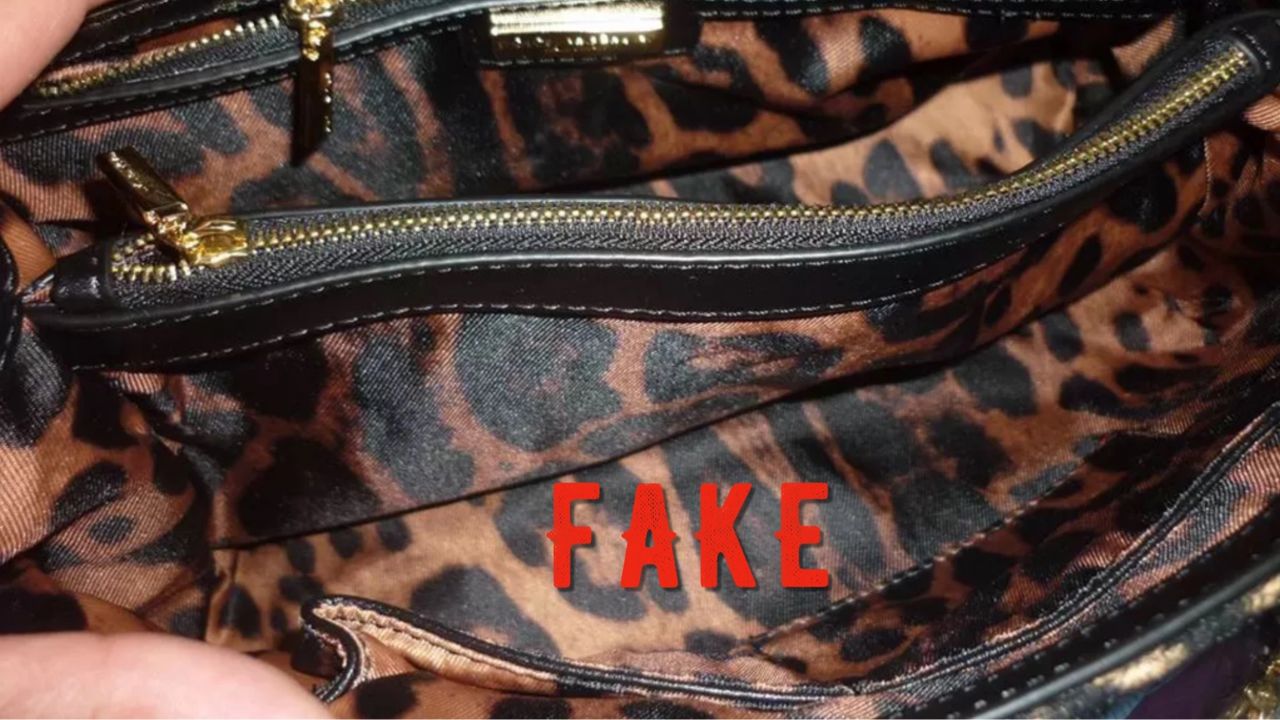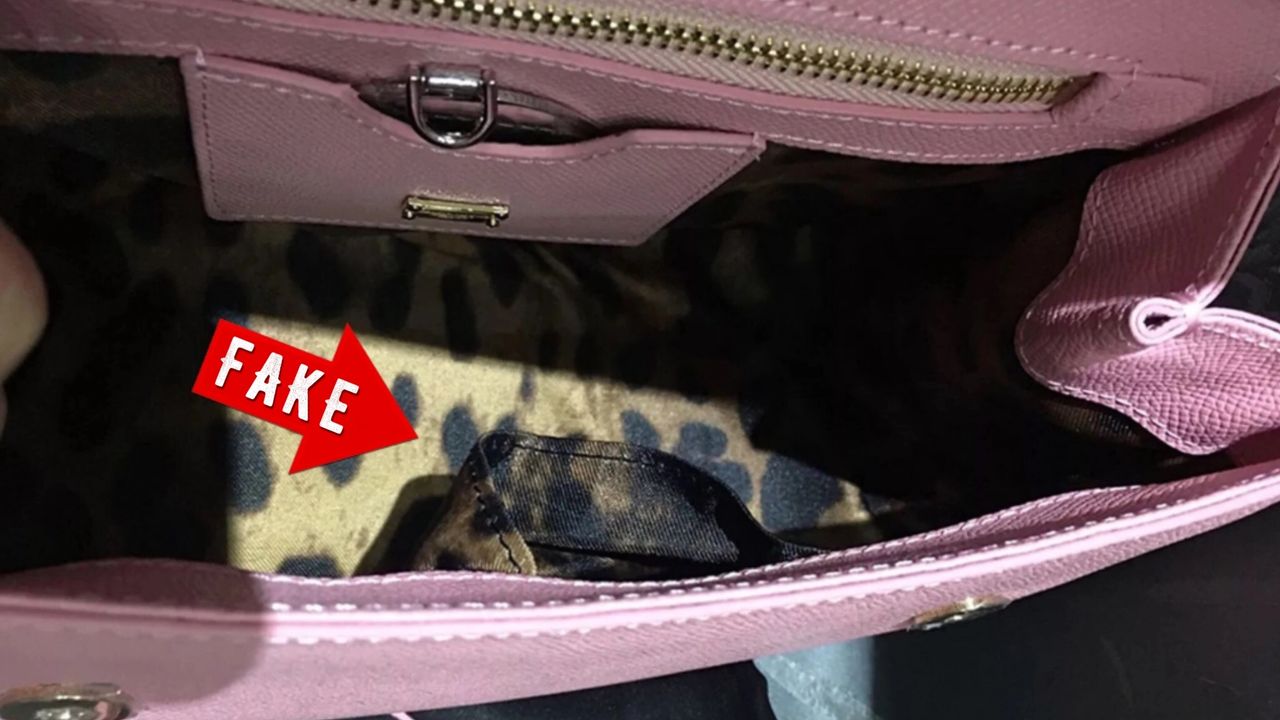 7. Zipper
Dolce and Gabbana Zippers are made by YKK.
8. Stitching
Stitching is a very special story about Dolce and Gabbana bags. All the stitches are very narrow, but as the bag is hand-made the long line under the handle, where the leather is hardest, the stitches may be not similar to one another and sometimes uneven.
Especially the alligator bags have the uneven lines – their leather is especially tough. This is absolutely OK!!! Just like Hermes bags have similar but not exactly identical stitches, made by hands. Inner side of the seams may sometimes look as the leather is cracked. This is especially visible on the loops of shoulder strap.
But this is also fine. Replicas often have uneven machine stitching all over, leather is badly attached. But it would be true to say that many replicas have perfectly even seams and stitches, that's why you have to check more points to verify your purse.
9. Cards and envelope
Every Dolce & Gabbana bag comes with a black authenticity card. It looks like a credit card, containing a white stripe for signature. The absolutely necessary thing about a card is a hologram. It is a small square hologram with Dolce and Gabbana text on it.
Note that a modern bag may have it either on the bottom right or left corner of the card – each way is absolutely fine. The bag itself does not have any holograms. Besides the card, an authentic bag may or may not contain a small paper envelope with information about the leather or other materials.
It is made of an expensive black grained paper. It is never glossy or smooth. Also pay attention that these envelopes are only pocket shaped with a flapless opening on the side. Many fakes have an "classic envelope shaped" envelopes which are the immediate sign of a replica.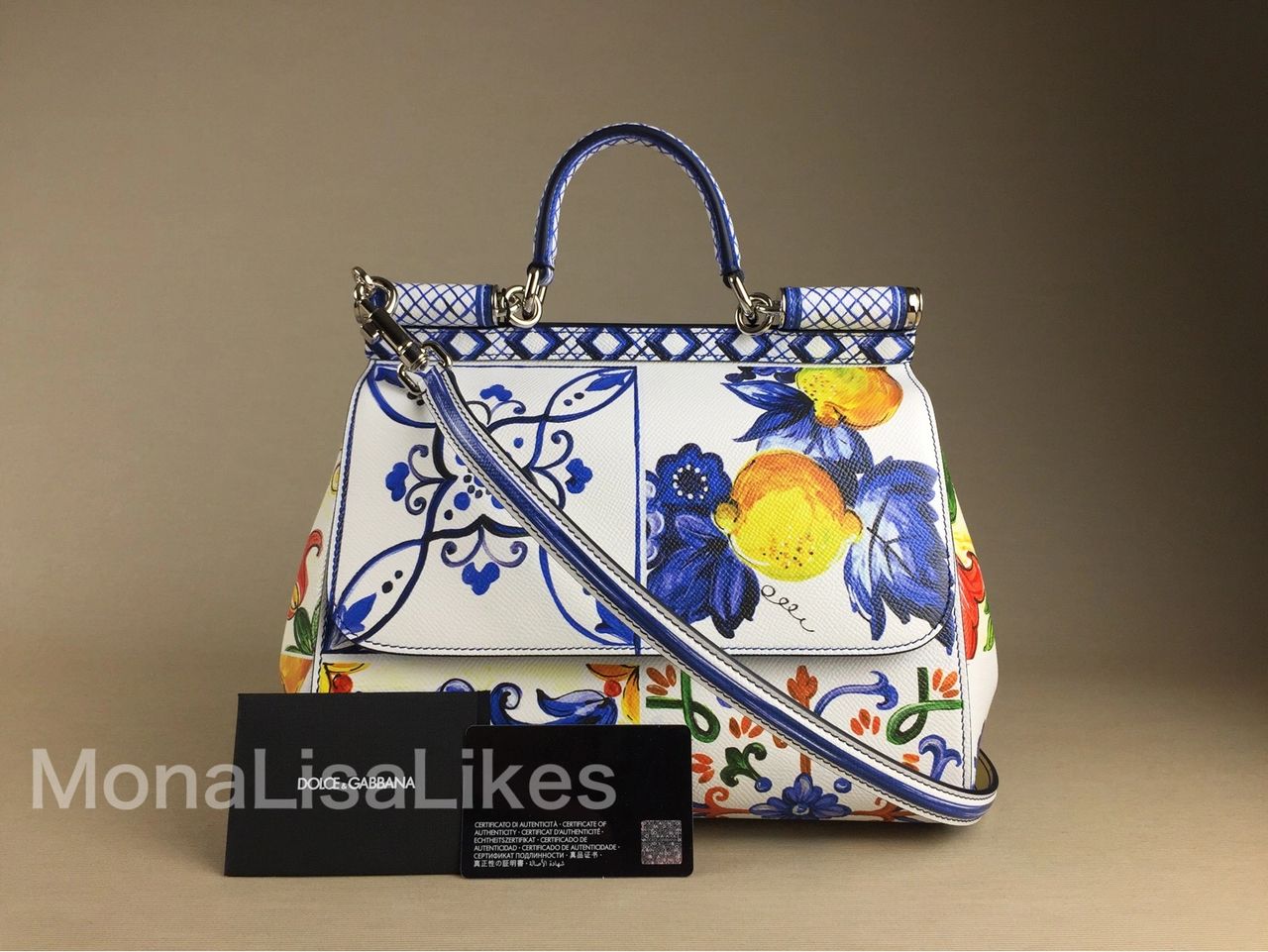 10. Serial number
Dolce bags never have any serial numbers like Chanels do. There is no number on the card as well. Same about RFID tags – Dolce & Gabbana handbags do not have RFID tags unlike Fendi or Chanel handbags.
11. Mirror
The attribute of a modern Dolce bag is a mirror placed in a special pocket. NOTE: Starting Spring-Summer 2018 Collection Miss Sicily handbags DO NOT COME with mirror any more! They still have a small pocket for the mirror, but no mirror inside. Most Dolce & Gabbana handbags between 2013 and 2018 (except, maybe, wallets on chains) have it.
There are two main types of the mirror: A) round metal mirror with glass reflecting side; B) Solid metal mirror without glass reflector. Both have name of the bag engraved on a back side. While new, the first one has a clear plastic film with tiny text covering the glass side. The first type is a most common and is included in all leather bags and all fancy bags (wooden boxes etc.).
The second one often accompanies canvas and coated canvas bags. It doesn't look like a piece of art – just a nicely polished round piece of metal with engraving. Replicators know about this simplicity and use it to trick naive consumers. But these mistakes they make:
– Solid metal mirror is put in leather bags which is an obvious sign of fake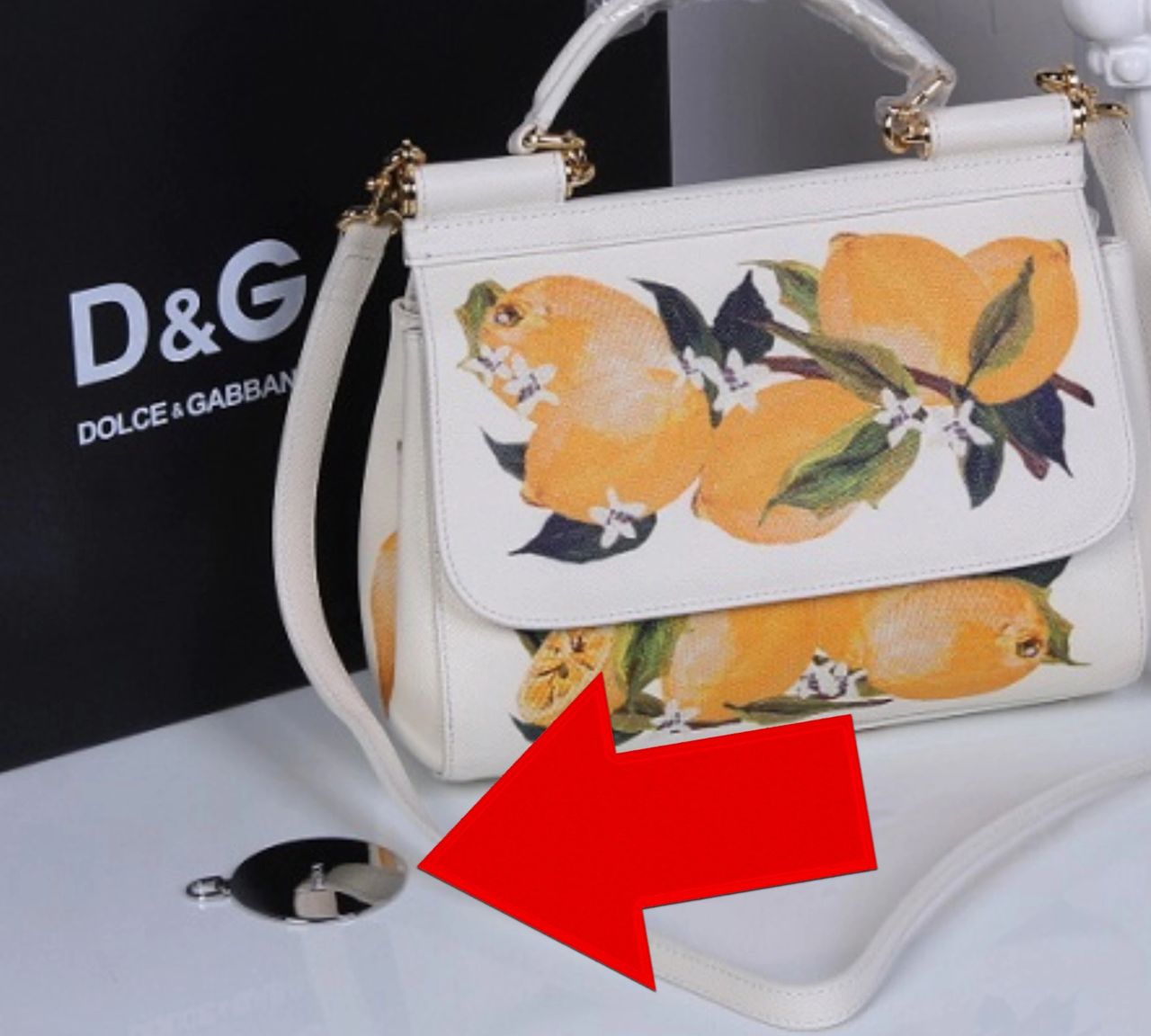 – Metal is not solid and smooth, it has uneven places and dents.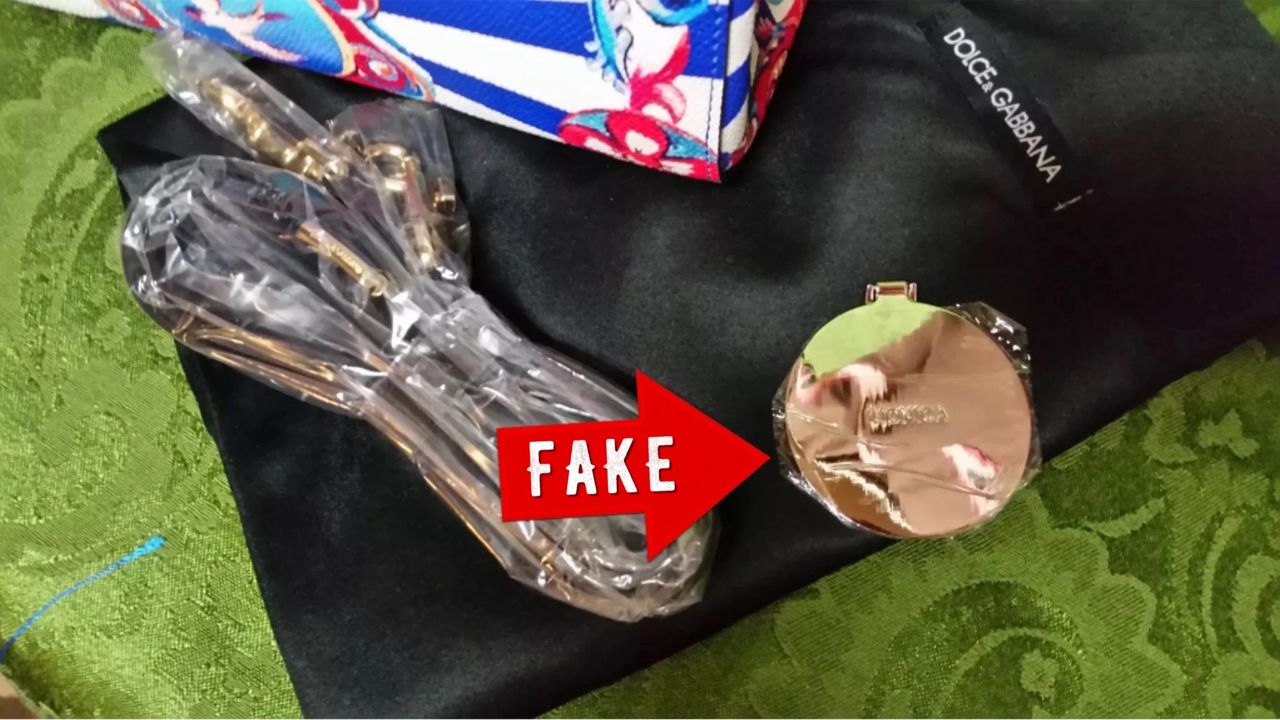 – Mirror is missing a bag name or has a wrong one. To save manufacturing costs the produce a bunch of mirrors with for example "Monica" on it and put it in Miss Monica, Miss Sicily and all other replicas.
The mismatching of the mirror and the bag might also be a mistake of a sales assistant (I have seen that many times), but if they don't match you should check other checkpoints of the bag to be sure that you will give your money into right hands.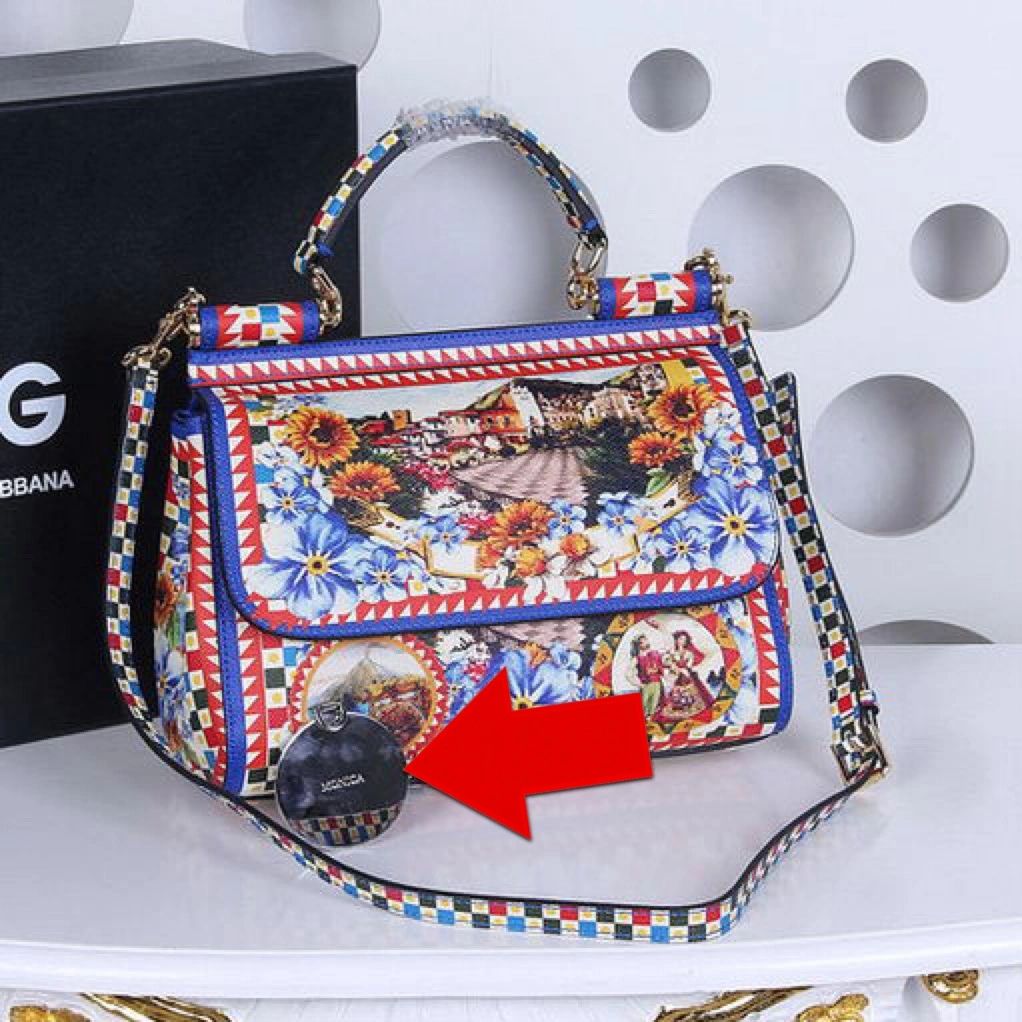 Please note that some limited-edition bags may also have a fancy rectangular mirror and sometimes it is even installed in the inner part of the bag flap.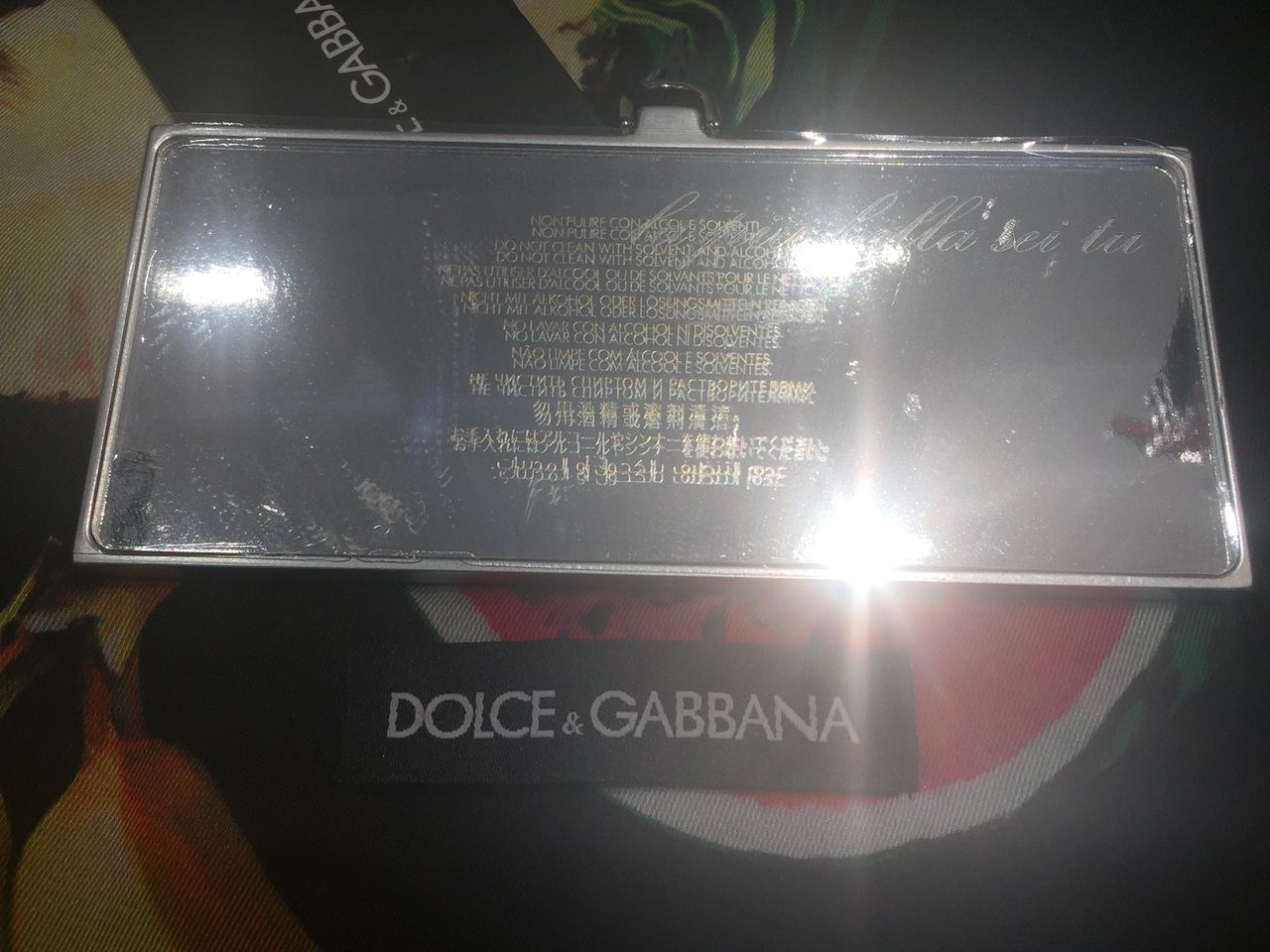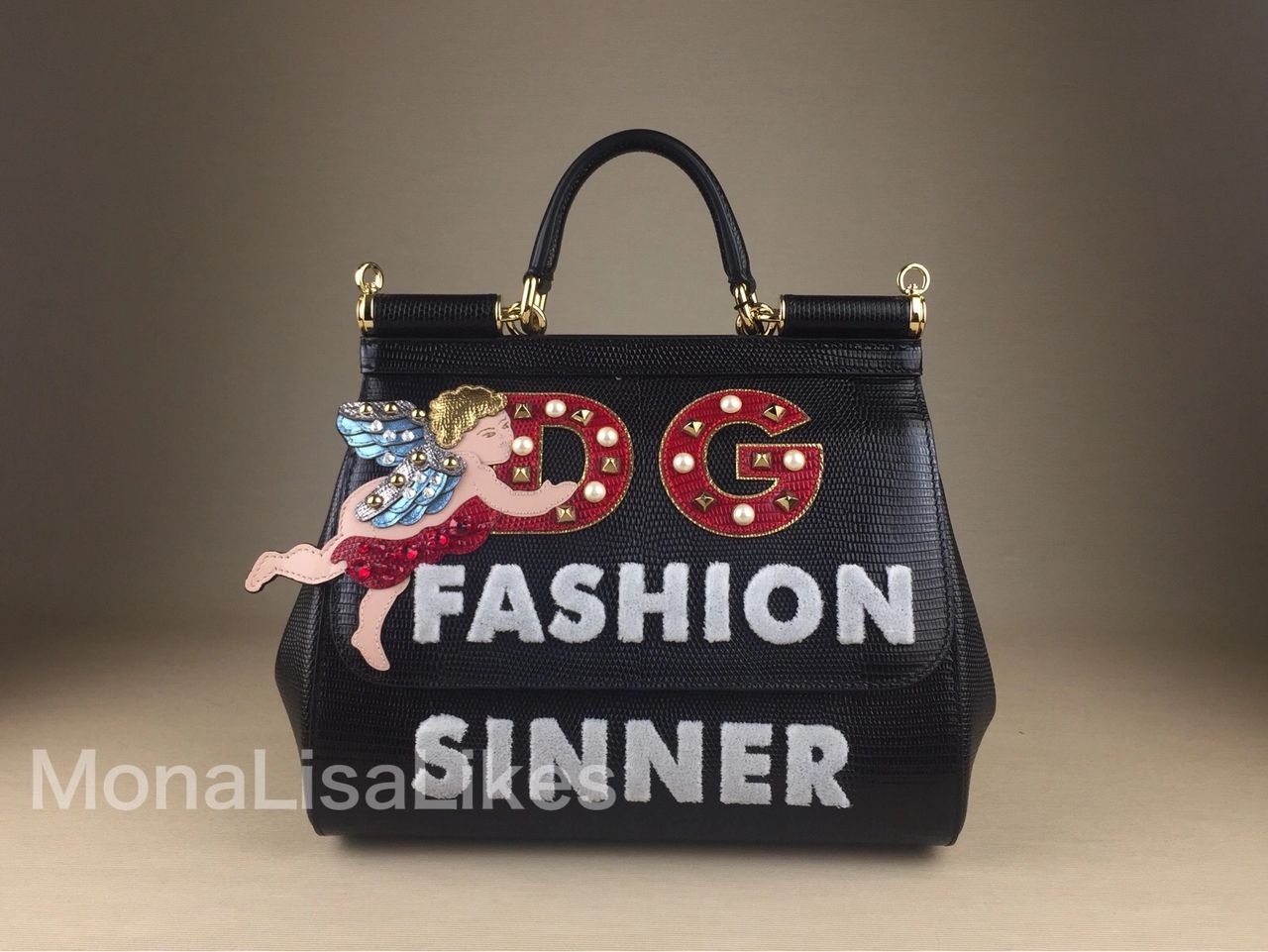 11. Dust Bag
The authentic bag comes in a black cotton dust bag with a double ribbon tightening. The Dolce name is embroidered on a separate ribbon and sewed on from two sides in a middle of the bag. Older bags used to have a white Dolce and Gabbana logo printed on the black dust bag.
Red light for you is a D&G logo! If you see it on the dust bag – run away! Fake bags often come with glossy synthetic bags, and many times you can easily tell it from the photos in the listing.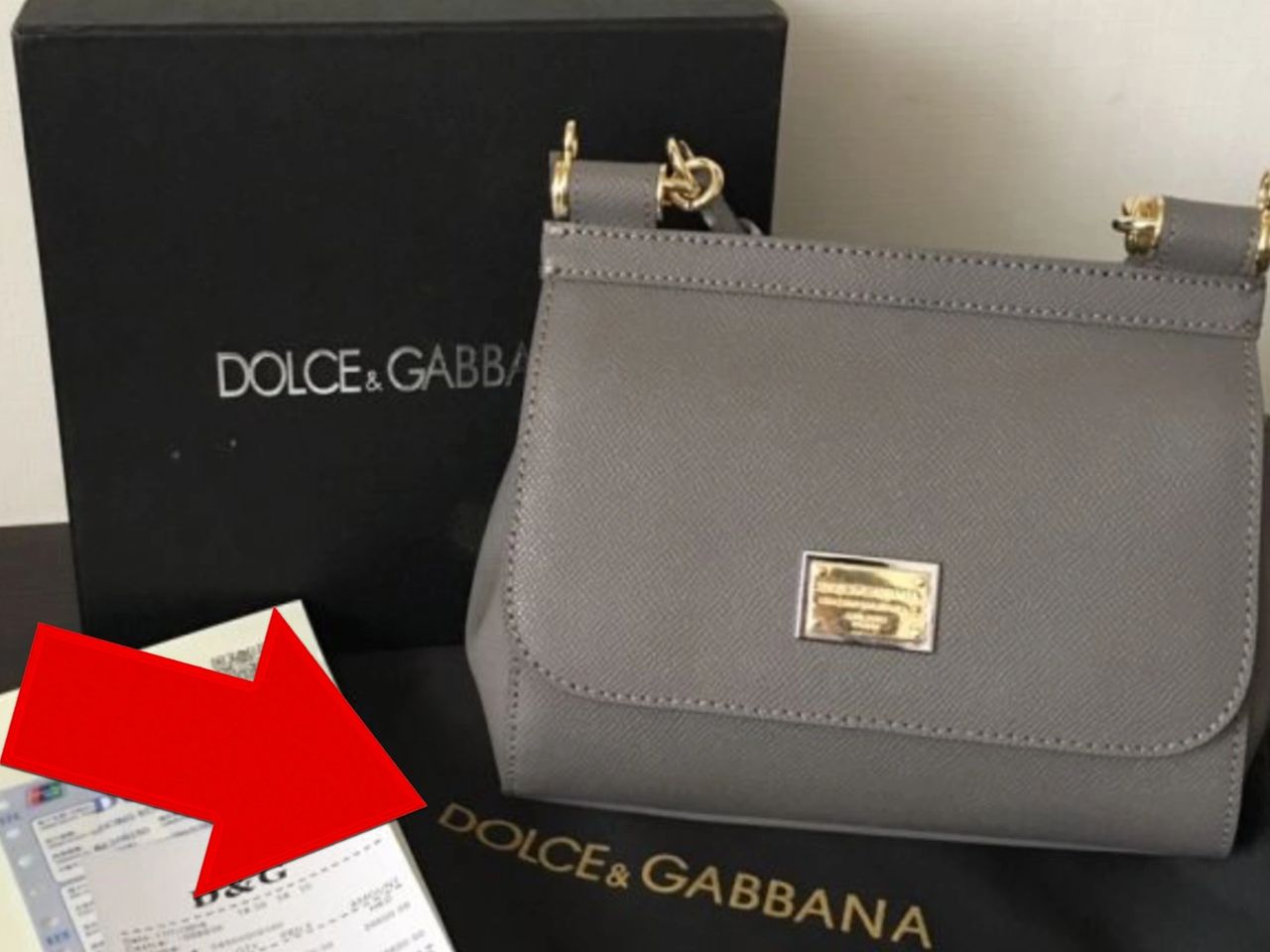 If you want to learn more about authenticity of DOLCE & GABBANA handbags, please watch our videos, where we go deep into all the details.
And of course, the safest way to buy an authentic DOLCE & GABBANA bag, dress, or shoes is to buy it from a trusted seller like monalisalikes.com
We sell only guaranteed authentic items from Dolce & Gabbana, Valentino, Bottega Veneta, Alaia, Brunello Cucinelli, Loro Piana and many more top brands. And our prices are unbeatable!
GET 10% DISCOUNT on your first purchase when you sign up for our newsletter on the bottom of our
homepage
More Articles
We divided our catalog in multiple categories for a better experience
Subscribe to our Newsletter and get -10% OFF your first purchase
Stay updated with newest arrivals and exclusive designer deals.